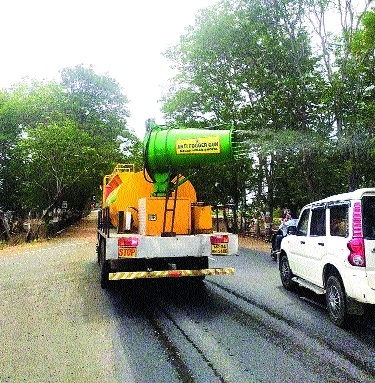 Staff Reporter :
On Monday, sanitisation carried out in containment areas near banks , grocery shops. With four multi-noozle spray sanitization spray carried out in Shahjehanabad Police Control Room, Palamari Hospital, Bank Colony, 6 number stop, Kotra Sultanabad, Bhadbada road, Nehru Nagar, Ibrahimpura, Moti Masjid, Purushottam Nagar, Budwara, Naveen nagar etc. Special sanitisation campaigns wearing PPE kits carried out in containment zones. All precautions is being taken while carrying out sanitisation at pavements and other areas in containment zones. Bhopal Municipal Corporation has also started special sanitisation campaigns for particular containment areas in zone 11 and zone 12. Exclusive team are deployed in such areas.
Sanitisation activities is focusing on raising awareness among public. As severe lock down is extended it has become important to remind people to stay inside. Accordingly BMC volunteers are working on providing information about Coronavirus. Sanitisation was held at containment zones including streets, markets, shopping precincts, community centres, parks, playgrounds, and neighbourhood spaces in residential areas which play a vital role in the social life of communities.
Sanitation employees working across the city are working also in vulnerable areas and are exposed to a greater risk of being infected therefore they have been asked to ensure compliance of COVID-19. The railway stations, bus stops , areas near hospitals were sanitized and special team is deployed to monitor crematorium sites cleanliness.