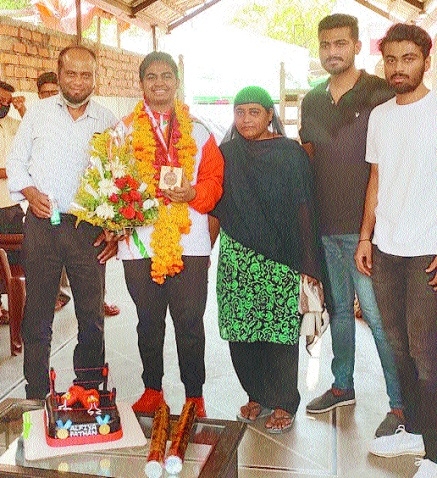 By Paritosh Pramanik :
City girl voted best women boxer of World Youth Championships
THE gold medal-winning effort by Indian women boxer Alfiya Tarannum Akram Khan Pathan has helped the city pugilist not only win hearts of fans but also claim the title of 'The Best' worldwide. According to International Boxing Federation's (AIBA) Fans' Polls, Alfiya was declared as the best women boxer of the recently concluded AIBA Youth Boxing Championships. The Championship was held at Kielce in Poland last month. Eighteen-year-old Alfiya clinched the gold medal in 81+kgs weight category defeating Moldova's Daria Kozorez 5-0 in the one-sided final. Earlier, in the tough semi-final, Alfiya had defeated host Poland's Toborek Oliwia 3-2.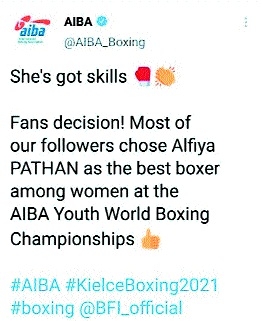 AIBA started a fans poll on twitter after the completion of the competition and asked fans to rate their best men and women boxers of the championship. On Monday night, the world's boxing governing body declared the winners on its twitter handle @AIBA_Boxing. "She's got the skills. Fans' decision! Most of our followers chose Alfiya Pathan as the best boxer among women at the AIBA Youth World Boxing Championships," read the tweet from AIBA. The tweet also had a few seconds' video of Alfiya's final bout. An elated Alfiya said she was ecstatic with the new recognition and added that the award will help her in motivating her in future competitions. "This award means a lot. This is a great thing in my career as the fans have voted for me during the major international tournament.
It is the biggest thing I've ever won. This recognition will motivate me winning more medals in future," said Alfiya while talking to 'The Hitavada.' The 'Golden Girl' of Nagpur said the fans' award will inspire her in performing well in future competitions. "It (the fans' award) will inspire me to keep bringing more medals to India and at the same time will make India, my coach and family proud," added Alfiya, daughter of Akram Pathan, who works as Assistant Sub-Inspector at City Police Headquarters, Nagpur. Initially, Alfiya was not sure that she would win the award at the international level. When the voting started, she was lagging behind the other gold medallists. But gradually, fans started voting for her and she eventually emerged the winner.
"When I came to know that AIBA has started voting for the gold medallists for world's best boxer, I was not sure of winning it because my votes were not much. But there was hope that I could win…and when the result was out I was very, very happy," an elated Alfiya, who had defeated Hungary's Reka Hoffmann in the quarter-finals, said. Before this World Youth Boxing Championship gold medal, Alfiya had won the yellow medal at the 2018 Asian Junior Boxing Championship.