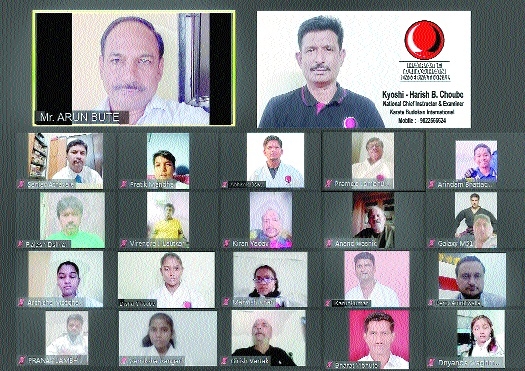 Principal Correspondent :
URGING sportspersons to practice boxing, Arun Bute said the sport widens one's knowledge about the game and is an excellent form of exercise. Bute, first from Nagpur to represent Maharashtra, AIBA coaching certification Course, SGFI, qualified boxing official, founder Secretary of Amateur Boxing Association of Nagpur District and founder Secretary of Nagpur Mahanagar Boxing Association, was speaking during the online Karate and Sports Seminar for Physical and Spiritual Development of students. The online seminar is being organised by Karate Budokan International (Vidarbha Region). "Boxing could help curb obesity as it is an excellent form of exercise. It is a strength and cardio sport that helps burn calories for a healthy living.
Thus, apart from getting fit, boxers, too, build their muscles," informed Bute. Elaborating further, Bute said that boxing teaches self-defence. "Boxing teaches self-defence. It helps a sportsperson to defend himself with the help of various skills. Boxing teaches self-protection in and outside the ring, and these skills come handy in case of an attack. Through encouragement from boxing coaches and positive affirmation, boxers become more confident in their capabilities. Achieving physical fitness through regular boxing also makes youths feel good, which boosts their confidence level while interacting with others," explained Bute. The certified coach said that boxers have to work really hard to achieve success. "Boxers use specialised techniques for maximum power expelled while minimising injuries. To excel in boxing, players have to play for up to 12 rounds, each lasting three minutes. A total of 36 minutes of continuous exercise develops good stamina.
Teens, who took boxing for fun or to lose weight and get into shape, have adopted it as a career. Practicing allows one to master the necessary skills and develop it as a career," Bute informed. Bute further said that the game of boxing teaches respect as there are rules to be followed even in defeat. "Inspiring love of sports and desire to keep fit can seem challenging; however, it can be done smoothly through boxing. The game develops the youths holistically towards being better citizens now and in the future. "Respect, socialisation, and stamina are some of the skills that are applicable in daily life. Besides, physically fit youths are more confident and with reduced stress levels translating to better living," he said. The second speaker of the day Kyoshi Harish Choube, National Chief Instructor and Examiner, Karate Budokan International and Sports Coordinator, spoke about the development of organisation and players. He said planning in sports is required because there is a definite time frame for achieving the goal. He also said that players should have vision in mind.
"Vision, just like speed and strength, is an important component in sports. Vision is much more than just seeing clearly. Many interrelated vision skills affect how well you play your sport," said Choube. "Motivation is the foundation of all athletic efforts and accomplishment. Motivation helps an athlete in becoming the best. Sportspersons must be motivated to do what it takes to maximise their ability and achieve the goals," Choube added. Choube said that players should self-assess themselves. "Self-assessment allows players to assess their own performance. It can be extremely valuable in helping players develop self-reflection, critique and judgment and ultimately, students learn how to be responsible for their own learning," Choube explained. The seminar concluded with interactive question and answer sessions. Percy Amroliwalla, Sports Coordinator, The CDS School, proposed a vote of thanks.