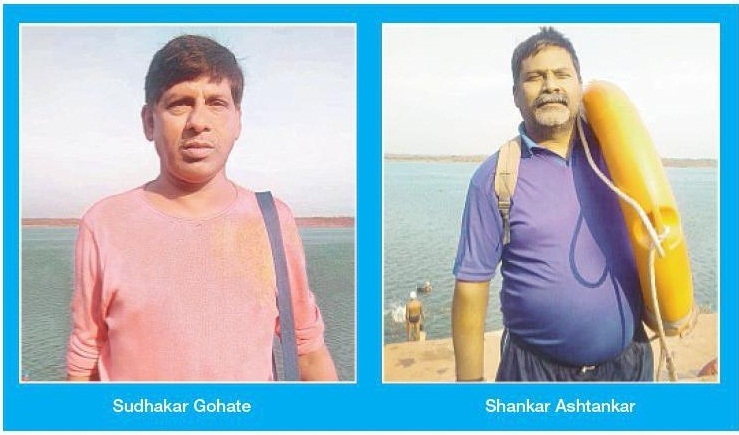 By Anupam Soni :
HE WENT there with an intention of ending his life but the Ambajhari Lake, where he was supposed to commit suicide, provided him with a new lease of life. Swimming changed his life for better. Meet paralytic Sudhakar Gohate, a native of Karanja Ghadge, who was fed up with "langdya" taunts from family members and wanted to end his life at the age of twenty. Now, 51, married and father of two sons, Gohate told 'The Hitavada' how swimming brought a positive change in his life. "I was very weak as a youngster and was hit by paralysis when I was in fifth standard. It had affected the entire left side of my body. My left hand was very skinny and my fingers were crooked.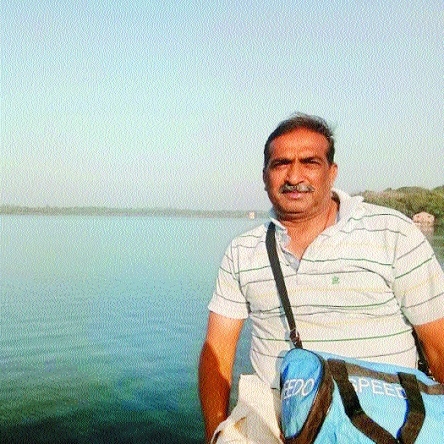 Sanjay Batwe
Though I got overall 82 per cent in matric exam, I failed in maths and was sent to my brother's place here in Nagpur. "A tailor by profession, my brother and his family stayed at a rented house. They did not like me at all. My brother would always say that I had leprosy pointing at my fingers. My sister-in-law complained that I ate too much. I thought I had had enough and took the decision to end my life. It was December 29, 1990. I went to Ambajhari lake but could not muster courage to jump. I went there for a couple of times and that's when Shekhar Sathe and Ajay Kadu, who used to come there regularly to swim, noticed me. They asked me whether I would like to learn swimming. I was hesitant but finally agreed to learn. As I started learning, I saw my muscles developing, I could sense much strength in my arms. I became confident. I always say Ambajhari gave me new life," said Gohate. Gohate later met Sanjay Batwe who is an NIS swimming coach and trains his pupil at the same place for sea swimming expeditions.
With Batwe's encouragement, Gohate started taking part in adventure swimming and is now a regular participant at those events. Shankar Ashtankar is another person who got the better of paralysis through swimming. Ashtankar, who is presently 53, was hit by the dreaded disease in 2009. He belongs to family that has diabetes and hypertension history. "I was living a very bad life due to paralysis. I took treatment at private and then at government hospital and when I slightly recovered, Dr Jagtap advised him me to try swimming for overall improvement of the body. Living close to Ambajhari lake, I used to go there but only for bathing. Then veteran swimmer Bhojraj Meshram helped me learn swimming. "Slowly, I got better and better. Not only I could find strength in my body, diabetes also came under control. Swimming is much better exercise than yoga and jogging," said Ashtankar, who is employed with Pix Transmissions Limited in MIDC. Batwe, who is known for imparting swimming training to handicapped — mentally as well as physically challenged people, took him under his wings and readied him for competitive events. "In a Swimming Marathon event conducted jointly by NMC and Dolphin Swimming and Sporting Club, I swam for non-stop five hours. I took part in various sea swimming events held in Malvan.
I have also successfully completed 6km sea swimming in the All India Open Sea Swimming Championship commemorating Navy Day," he said proudly showing all the certificates. People like Gohate, Ashtankar and the disabled ones need family support to overcome their problems. "Family members, instead of neglecting disabled people, should stand behind them. Their support is most crucial and important. After family backing, it is will power of the swimmer that helps," opined Batwe. "Yes, family plays a big role. My wife always encouraged me. And since last 30 years I religiously go for swimming every day. My routine inspired my son Lokesh who has participated in many district and state level tournaments," said Gohate, who got married in 2000. "I am ready to miss a family function like wedding or reception but never miss an hour of swimming everyday," said Ashtankar. These are the times when everybody is talking of improving one's immunity and Batwe came up with his suggestion. "Swimming pools are closed owing to COVID pandemic but I strongly suggest swimming as it is the best exercise for lungs. When the lungs get heated due to swimming, the body throws out cough helping in keeping the body healthy," he said.