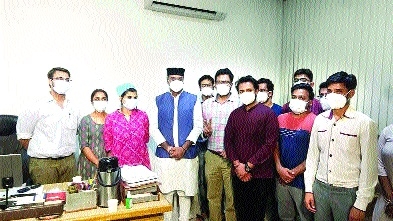 Juda office-bearers meeting Medical Education Minister Vishwas Sarang at his residence in State capital on Thursday.
Staff Reporter :
After a day-long protest of Junior Doctors' Association (JuDA) (MP), by suspending OPD facilities of Hamidia Hospital and five other Covid hospitals in the State, the Minister for Medical Education Vishwas Sarang assured to meet the JuDA's demands and later the protest was called off. The office-bearers of JuDA met Minister Sarang on Thursday evening at his residential office, after which Sarang made it certain that he would fulfill the long-pending demands of the MP JuDA. Notably, more than 3,500 junior doctors had suspended their services on Thursday morning with a set of demands, for which they had staged a protest twice amid this pandemic.
President of MP JuDA Dr Arvind Meena told 'The Hitavada' that they had demanded free medicines for a resident doctor and for his family on contracting coronavirus. Apart from this, 50 beds should be reserved at medical colleges for JuDA. He also said that the stipend of senior resident should be Rs 95,000, intern's stipend Rs 15,000 and stipend of junior doctors of third, second and first year should be Rs 89,000, Rs 87,000 and Rs 85,000 respectively. Dr Meena further added that junior doctors have worked in Covid pandemic from 2018 to 2020, so they should be exempted from compulsory rural service bond.
Another demand was that the last one year tuition fee of junior doctors should be waived and Junior doctors working in Covid Duty should be given 10 percent additional marks for future Government jobs. Dr Meena added that the Minister Sarang has assured them to fulfill most of the demands, however, Sarang said that waiving of fees was not feasible.