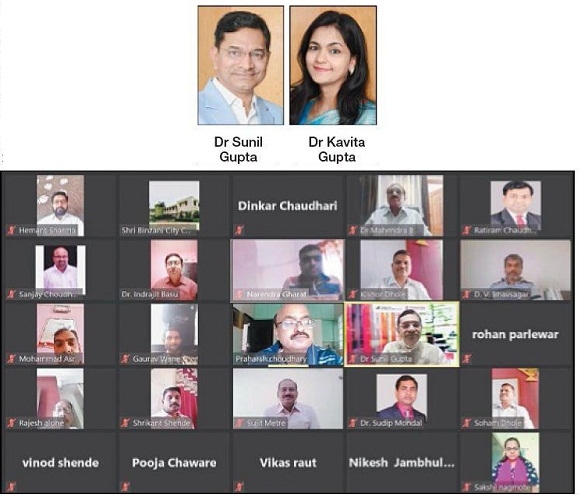 Sports Reporter :
A ONE-DAY online webinar titled 'Health Awareness Programme on COVID-19' was jointly organised by the Alumni Associations of SK Porwal College, Kamptee and Shri Binzani City College, Nagpur. The guest speakers in the webinar were Dr Sunil Gupta, renowned diabetologist of Nagpur, CEO and MD, Sunil's Diabetes Care n Research Centre, Nagpur and Dr Kavita Gupta, Director, (DCRC), Nutritionist, Certified Diabetes Educator and Insulin Pump Trainer. The webinar was held in commemoration of Maharashtra Day. At the outset, master of the ceremony Sakshi Nagmote outlined the prevailing COVID scenario.
Dr Sujit Metre, Principal, SB City College spoke about the atmosphere of fear and stressed on the relevance of the 'Health is Wealth' dictum. Dr MB Bagade, Principal and President, Alumni Association of SK Porwal College, Kamptee shed light on the manifold sufferings of mankind in the wake of the pandemic. He also cautioned about the need to be prepared for further waves of the infection. Dr Indrajit Basu, Covenor of the webinar and Secretary, Alumni Association of SK Porwal College gave a brief introduction of both the guest speakers. He welcomed them and invited them for their presentations. Dr Sunil Gupta spoke about the double tsunami of COVID and diabetes which is a big challenge. According to him, "Coexistence of diabetes and COVID-19 is an unholy situation wherein one disease entity tends to complement the other." He elaborated on the dangers of COVID induced diabetes and underlined the importance of sanitation, double masking, avoiding crowds, etc as prevention is the key to stop the chain of infections. He also guided the participants on Type 1, Type 2 and Gestational diabetes.
He also spoke on the need to maintain glycaemic control, avoidance of pain killer, reduction in stress, lifestyle modifications, maintenance of ideal body weight and increased physical activity. Dr Kavita Gupta guided the participants regarding the importance of good nutrition, immunity boosting foods, a well-balanced diet and the need to keep oneself fully hydrated. She encouraged the concept of micro kitchen gardens in homes. She also advised on the need to eat wisely and to consume a variety of wholesome food like milk, legumes, pulses, vegetables, fruits, etc. She stressed on the need to avoid fast food, fried food, carbonated beverages, coffee, tea and spicy food. There were interactive sessions during which guests responded to various queries of participants. A vote of thanks was proposed by Dr Rajendra Watane, Organising Secretary of the webinar and President, Alumni Association, SB City College. Organising committee members Dr Sandip Tundurkar, Dr Sanjay Choudhary, Dr Narendra Gharat, Dr Iftekar Hussain, Dr Sudip Mondal, Dr Kishor Dhole, Mohd Asrar, V Wanjari, Dr AH Ansari, Dr Khobragade, Hemant Sharma, Shrikant Shende, Gaurav Wane worked hard for success of the event.