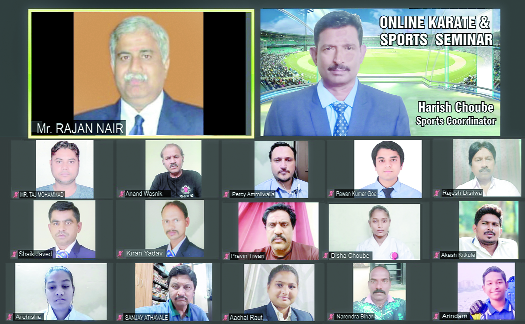 CRICKET has evolved a lot in past few years and now it can be taken as a career option by the players. Players have got a good platform today and they can earn big money even if they are not picked in the national team, said Rajan Nair during the 23rd Online Karate and Sports Seminar for Physical and Spiritual Development of players. The seminar is being hosted by Kyoshi Harish Choube, National Chief Instructor and Examiner, Karate Budokan International and Sports Coordinator.
Nair was talking on the topic: Avenues in cricket. A former Vidarbha Ranji Trophy player and former BCCI Media Manager, Nair stated that a cricketer needs to have a vision and certain qualities like leadership, teamwork, determination, hard work to excel. The former PR Manager with WCL and Coal India, who was also Indian cricket team's manager at several international series abroad said there are several other options available for cricketers even if they fail as a player. "A cricketer can become an umpire or a coach or an event manager for a particular sport he can exhibit good public relations," said Nair.
Nair appreciated the efforts put in by Lalit Modi, the brain behind IPL. "At IPL, a player gets an opportunity to play with international players which otherwise would not have been possible. The player performing at IPL gets a lot of name, fame, money and other job opportunities as well," he expressed.
He also shared his vast experience as the venue manager during the ICC World Cup.
The second speaker of the day Taj Mohammad, Founder President All India Koshiki Federation, Black belt 8th Dan, World Koshiki Federation (UK), Koshiki International A Grade Referee from Japan, explained about the technical sides of the game Koshiki.
Percy Amroliwalla proposed a vote of thanks.