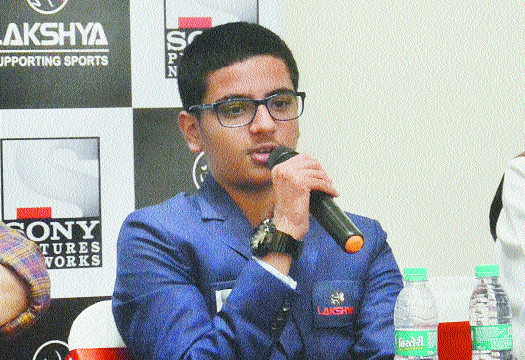 By Paritosh Pramanik
INDIA'S one of the youngest chess Grandmasters Nagpur's Raunak Sadhwani has come forward to support All India Chess Federation's (AICF) initiative to help the chess community of the country fight the dreaded COVID-19 virus.
AICF recently launched the 'Checkmate COVID' initiative to help the chess community affected by the novel coronavirus.
The initiative was launched at an online event in the presence of FIDE President Arkady Dvorkovich, five-time world champion Viswanathan Anand, World Rapid Chess Champion Koneru Humpy, AICF President Sanjay Kapoor and Secretary Bharat Singh Chauhan.
Through the initiative AICF will not just help the chess community affected by the deadly pandemic through financial aid but will also have a team of doctors who will work round the clock to provide the right assistance to the patients.
GM Sadhwani termed the step taken by the chess governing body of the country as a wonderful and timely help for those suffering.
"I think it's a wonderful initiative by AICF. It will be very useful for the entire chess fraternity. In this difficult phase of life we need to support each other and the 'Checkmate COVID' initiative will definitely give some comfort to the ailing patients," said Sadhwani while talking with 'The Hitavada.'
Sadhwani, who is the recipient of Maharashtra's Shiv Chhatrapati Award, appealed Nagpurians to contribute to the cause and support the chess fraternity.
"I humbly request all Nagpurians to support and donate in whatever way they can," said Sadhwani.
Sadhwani was also of the view that some charity tournaments or talk shows can be organised to raise funds for the noble cause. "I think we can organise charity tournaments, some talk shows etc. so that funds can be raised. This would be helpful for those in need. Due to this pandemic people are facing so many psychological problems so it will be really helpful if they can watch, play our beautiful game of chess," added the 16-year-old Nagpurian.
Sadhwani said he would wholeheartedly support the AICF's initiative and would actively participate to raise the funds.
"I will try my best to be an active member of this great initiative, support financially and do my part whatever my federation says," promised Sadhwani.
The chess wizard also hoped that chess players from other countries, too, come forward and help India in this time of need.
"I am in a favour of organising charity events in which people across the world can come forward and support our country which is going through a terrible phase."
Sadhwani took to twitter and urged citizens to contribute for this noble cause and donate generously. He also posted a link through which donations can be made.
"I am delighted to be part of the 'Checkmate COVID Initiative' by AICF and support this unique gesture. Your donation can help the ones in need to a great extent. Make an impact, we urge you to make your contributions using this link: https://t.co/zgSglhb3Tv," read Sadhwani's tweet posted on Wednesday night.
Speaking during the launch, Anand lauded the initiative and appealed to donors to contribute to the cause.
Kapoor spoke about the rising COVID-19 cases and said, "We, at AICF, have launched this initiative to support our chess community by providing them medical, home quarantine support and financial assistance for members who require hospitalisation," a PTI report quoted Kapoor as saying.
Also, a 24-hour helpline has been set up to provide asssistance, he added.
Among the highlights of the 'Checkmate COVID' Initiative are financial assistance to registered players, arbiters, organisers, coaches and retired players to combat coronavirus, assistance for vaccination for players travelling abroad for tournaments and a committee to sanction medical funds.
Chauhan said the initiative requires support from various quarters and sought contributions towards the cause.