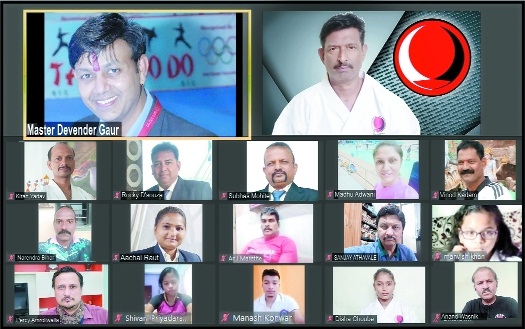 Sports Reporter :
TANG soo do could be best described as a Korean version of karate. It is a striking style of martial arts in that practitioners utilise hand strikes, kicks and blocks to defend themselves, said Master Devender Dutt Gaur, Technical Chairman ITF Tang Soo Do Sports Federation of India, Black Belt 7th Dan during an online event. Gaur talked in depth about the sport not very common in India in a seminar 'Karate and Sports Seminar for Physical and Spiritual Development.' The series of seminars is being organised by Karate Budokan International (Vidarbha Region) with Kyoshi Harish B Choube, National Chief Instructor, Examiner Karate Budokan International and Sports Coordinator, being the host. While addressing the participants, Gaur said that tang soo do is a Korean version of karate where jiu-jitsu or aikido style wrist grabs are also practised (known as self-defence moves).
"The sport, one of the best martial arts in the world, was sometimes misinterpreted as a part of Japanese karate by some theorists. Some say Korean tang soo do, taekwon-do came from Japan because the same type of hyungs or katas are trained in these arts. So some masters try to make new hyungs such as chun ju, tang kunts. The traditional forms of hyung are universal. Japan, Korea and China have the same hyungs.
The mood of movements, rhythms, principals, emphasis may vary in each style but it is never owned by one style or country," Gaur informed in detail. Since 2012, Indian tang soo do teams are participating in the World Championship and winning positions under the able guidance of President Sh Luv Sehrawat and Gaur. Members of Technical Committee are also continuously participating in dan certification courses, masters' seminar and international judge and referee certification courses. Tang Soo Do Sports Federation of India is working hard Day and night to develop and spread authentic form of the sport. The programme concluded with a interactive session of questions and answers. A vote of thanks was proposed by Sensei Disha Choube, 2nd Dan Black Belt, Karate Budokan International.