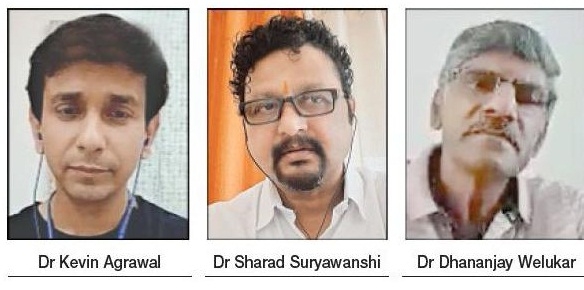 Sports Reporter :
It is must for players taking part in any event, says Dr Suryawanshi
BUSTING the myths that vaccination brings weakness and fever, Sports Physiotherapist Dr Kevin Agrawal said that vaccination, in fact, boosts immunity and is beneficial for players. Dr Agrawal was speaking on a webinar hosted by Sports and Physical Education Department of Rashtrasant Tukadoji Maharaj Nagpur University (RTMNU) titled 'Krida Samvad' urging players to take the jab. Addressing participants on the online platform, Dr Agrawal said, "Weakness associated with vaccination and the subsequent fever is a very normal thing. It does no harm to strength of the players. In fact, vaccination helps in boosting the immunity and is thus very beneficial and important for sportspersons."
Dr Sharad Suryawanshi, Director, Sports and Physical Education Department, RTMNU, said that the main intention of holding this webinar was to motivate and urge sportspersons to take the vaccines as soon as possible. "Vaccination is compulsory for all the players. A certificate in that regard will be mandatory for being eligible to take part in varsity' inter-college and later inter-university events. The players will also need the vaccination certificate to travel inside Indian and abroad as well. Vaccination will not only keep the players safe but also their family members," said Dr Suryawanshi. He urged players taking part in events other than athletics like swimming, aerobics, zumba to also get vaccinated. "They should treat this as a national responsibility and come forward for getting inoculated. Physical education teachers of colleges must take lead in this respect.
"Vaccination is totally doping-free and not getting vaccine may disrupt their training schedule if one contracts the dreaded diseases," he added Senior member of RTMNU board Dr Dhananjay Welukar, who presided over the webinar, asked the players to get vaccinated and also spread a word about it. "Players must voluntarily come forward to take the jabs at its earliest. They should post their pictures on social media to motivate others for vaccination. Players should not take much tension in these lockdown periods and must try to remain fit with whatever facilities they have at home. it is major challenge to keep oneself physically as well as mentally fit during this period," he said. Players from Wardha, Bhandara, and Gondia districts apart from Nagpur took part in the seminar.
At the outset, SB City College's Dr Sanjay Choudhary made introductory remarks. Dr Amit Tembhurne of SB Patel College, Sakoli conducted the proceedings while Dr SN Murti of Rani Agnihotri College of Physical Education, Wardha proposed a vote of thanks. Among those who worked hard to make the one-day webinar a success include Dr Aditya Soni, Dr Sudhir Sahare, Dr Tejsingh Jagdale, Dr Shriram Aaglawe, Dr Pravin Kumar, Atul Neware, Yugbahdur Chhatri and Vijay Ghichare.