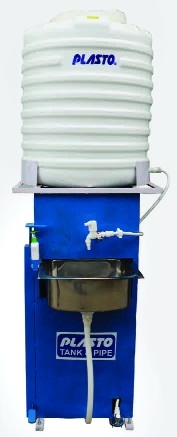 Business Bureau ;
HYGIENE and frequent hand washing are extremely important to prevent COVID-19 which is currently spreading rapidly around the world. Considering the same, RC Plasto Tanks and Pipes Pvt Ltd, a leading name in the field of water tanks and pipes manufacturing has launched a 'Touch Free Hand Washing System' for its valued customers is getting great response. This 'Touch Free Hand Washing System' is full of many features. Since the system is touch free, hand washing can prevent the spread of corona and other infectious diseases.
This 'Touch Free Hand Washing System' is easy to use and can be used in many places like offices, public places, housing apartments, schools, hospitals etc. Another important feature of this system is that it requires less space and can be easily moved from one place to another as it is portable and foldable.
This system also saves water while washing hands. This 'Touch Free Hand Washing System' is affordable to the customers. To book order for the same call (Mobile: 9325225118). RC Plasto Tanks & Pipes Pvt Ltd, besides making quality water storage tanks and pipes, also manufactures CPVC and UPVC pipes and fittings, SWR and agricultural pipes and fittings, column pipes, garden pipes, casing pipes, HDPE pipes, sprinkler pipes, PTMT bathroom fittings and tank filters.