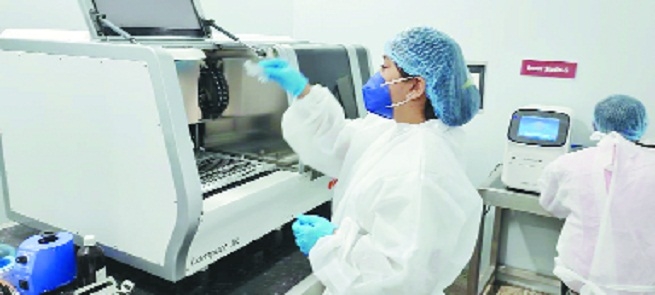 Business Bureau ;
RAINBOW Medinova in its endeavor to bring latest investigation facilities has installed fully automated Express XL RTPCR system for processing of COVID-19 and other various molecular tests. Also, extraction, premix etc., are automatically done in a close cartridge system reducing manual error and chances of contamination. Samples will be collected from home and the results will be ready within 4 to 5 hours on same day. Fast reporting services will help for emergency surgeries and travelling purposes. The centre is already approved by CGHS, WCL, ESIS, ECHS and the beneficiaries can avail this facility at approved rates.
The molecular lab is also used for NAAT (Nucleic Acid Amplification Test) testing of HIV, Hepatitis B, and Hepatitis C infections within its window period in its preoperative packages. Blood bank is also using the equipment for testing it's blood and blood products which reduces the risk of transmission almost zero of blood borne infection of donors to recipients/ patients.
The machine has capacity of processing 96 samples at a time. Dr R B Dakhane, Proprietor of Rainbow Medinova also plans to start soon various tests for diagnosis of viral infections – Human Papilloma Virus responsible for cervical cancers, Cytomegalo virus, HIV, Herpes Simplex Virus, Rubella, infectious diseases like TBPCR, cancer tumor markers. Dedicated team of microbiologist, Dr Sneha Yelne, Senior Pathologist Dr Muzumdar and Dr Soumya alongwith Senior Technicians specially trained will be giving best of the services.