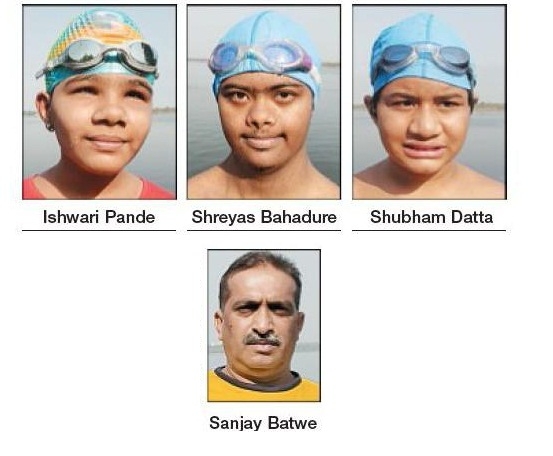 By Anupam Soni :
SPECIALLY abled is defined as someone who has different capabilities as compared to an average person. It's an umbrella term, and can be used to describe a wide spectrum of physical or mental disabilities, from blind people, to those suffering form Attention Deficit Hyperactivity Disorder (ADHD) or down syndrome. But, in fact, they do have something special. If they lack something, they are being compensated with some or the other quality that helps them live their life with satisfaction and peace. Meet Ishwari Kamlesh Pande, Shreyas Vinod Bahadure and Shubham Rajib Datta — all these youngsters have physical or mental disability. Ishwari is totally blind, Shreyas suffers from down syndrome while Shubham is affected with ADHD. The only common thing that binds them together is their love for swimming. In fact, swimming is a way of life for these specially abled children. Taking to waters has given them hope and more importantly better health.
Eleven-year-old Ishwari was a premature-born baby. "Ishwari and her brother are twins. Both were premature babies and were very weak. Strong medications had ill effects on retina of their eyes and though my son has little vision, Ishwari, even after an operation, has lost complete vision. "When she grew up, her school teachers asked me to put her into swimming. I tried for a couple of years but could not get a proper coach. When I contacted Batwe sir, he immediately took her under his wings. With efforts from Batwe sir, Ishwari learned swimming," said father Kamlesh while interacting with 'The Hitavada'. "It is now four years that I am training with Batwe Sir. I have learnt freestyle, backstroke and breaststroke with freestyle being my favourite. I have taken part in many events and my immediate aim is to participate in sea swimming," said a confident Ishwari. The little girl is a talented singer also.
"I am also taking classes in classical singing and Lata Mangeshkar is my favourite singer," said Ishwari, who has also won accolades as a budding singer. On how difficult is to train these blind or mentally retarded children, NIS coach Sanjay Batwe said, "There are a couple of things. First and foremost is to take the fear out of them. You have to earn their confidence. Initially, I just make them walk in water with myself. This may be a week-long exercise. Then slowly, we begin actual training. Once they get used to it, they learn." Sound plays an important role in guiding blind persons. "Sound plays an important role in guiding her. She responds to clapping and oral instructions. It is much easier in the pool as compared to open waters (like Ambajhari lake where she regularly trains). In the pool she can have the feel of wall on one side and a rope on the other side. If she touches the rope, we ask her to take left or right and she corrects herself and then takes the right way." Swimming plays an important role in helping them gain better physical and mental heath.
"She has brilliant memory and great ears. While doing karaoke singing, all of us look at those dots that disappear one by one before words flash on the screen. Ishwari has memorised even that space of time and picks the word exactly at the right time," informed Batwe. Fifteen-year-old Shreyas was also suggested swimming for overall development of the body. "He is suffering from down syndrome since birth. He was weak and could not speak. I took him to doctors in Mumbai for treatment. Then one physiatrist advised me to put him into swimming. It was difficult to find a coach for him. But after some time, I was told to meet Batwe Sir at Kamgar Kalyan swimming pool and it has been over four years Shreyas is with sir," said his father Vinod, who is a teacher. "For a week, Batwe Sir took him on his shoulders crossing sides of the pool. He would pull his hair but sir showed a lot of patience and he slowly learned swimming. He is much better now. Not only his health has improved but he has also starting to get social. He meets others and make them friends on his own," he said. Shreyas has made a mark in competitions right away. "In his first district meet, he got a silver medal. In his first nationals, he returned with twin medals and was also among top ten in sea swimming. So, in all his major events, he has returned with medals," said a proud Vinod. "He is very punctual in swimming.
I have never seen him saying no for a swimming session be it winter or rainy season. Swimming has helped him get better physically as well as mentally," his mother Rekha added. Youngsters with ADHD have high level energy and they are very restless. Handling them is a big issue. "I have nothing intact at home, Shubham has broken most of the (breakable) items. He would not sit idle. Now 11, he has had medical issues from birth. He was hospitalised for six days when he was 18 months old and was speechless after discharge. Even now, his vocabulary is of five-six words only. Later, he had two attacks of epilepsy. He turns violent any time," said mother Chandana, who is an employee with the South Eastern Central Railway. The youngster was also suggested swimming and Batwe got one more specially abled child under him. "Batwe sir took huge effort to train him and to help him remain calm. With regular swimming his health has improved. His food intake has improved and since he gets exhausted, he takes good sleep. He has calmed down to a large extent.
Most importantly, his medicines also have reduced. He has huge stamina and can swim for about three hours non-stop. After joining swimming, he has never had a bout of cough or cold," his father Rajib said. Batwe said role of the parents is most crucial in such types of cases. "More than anybody, parents have to take an active part. Bringing their wards daily from 10-12 kilometres, waiting for an hour or so, is not easy. But one good side-effect is that by doing so, the parents are also benefiting. By the time, the children are in water, they usually take a walk and that is helping them have an improved health," Batwe concluded as parents burst out into a hearty laugh.