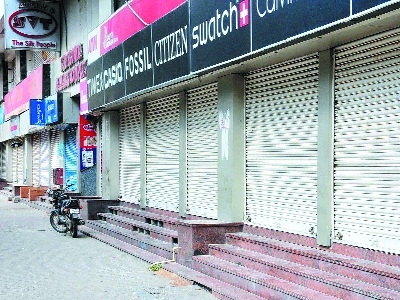 Business Bureau :
Traders all over the city heaved a sigh of relief on Monday when the Nagpur Municipal Commissioner announced much needed relaxation to the market restrictions. The traders, who are bearing the brunt of the restrictions for quite a long time, termed the move 'satisfying' and said it will give some breathing space to the traders from June 1. Ashwin Mehadia, President of the Nag Vidarbha Chamber of Commerce (NVCC) said the traders welcome the move and assure the municipal authorities that they would follow all the guidelines to prevent spread of coronavirus. "We have been creating awareness among the traders in this regard. We are also looking at further relaxation in the coming days if there is a fall in the number of COVID-19 cases," he said. Traders under the banner of NVCC have been strongly demanding the authorities to allow the opening of non-essential shops.
"Right from the beginning we wanted the authorities to strike a balance between steps to prevent the coronavirus and allowing business activities. I think this has happened now. It is good for the people and the traders as well," he said. Expressing satisfaction over the move, Nihar Taori, Director of Taori Marketing, said that it will give relief to many citizens who could not buy air products like air conditioners, refrigerators and air coolers. "We are in the mid summer when demand for these items is at its peak. However, I think the time between 7.00 am and 2.00 pm for opening the shops is very less. normally people buy these products in the evening hours," he said. Rajkumar Gupta, President of Nagpur Sarafa Association, said that there is a need to lift restrictions.
"Traders, large numbers of workers and employees will be benefited due to it. We have already missed the marriage season and festivals like Akshaya Tritiya when people buy jewellery. Nevertheless, it will be good to see markets coming on track," he said. Keeping in view the coronavirus cases, the municipal commissioner had imposed lockdown like restriction till May 31. The Nagpur Municipal Commissioner on Monday announced the relaxation allowing all essential shops to operate between 7 AM and 2 PM. In addition, all the non-essential shops (stand alone shops and not inside shopping centers/malls), are being allowed to operate between 7 am and 2 pm from Monday to Friday. Home Delivery through e-commerce platforms essential and non-essential items) will also be permitted till 11.00 pm with effect from June 1.