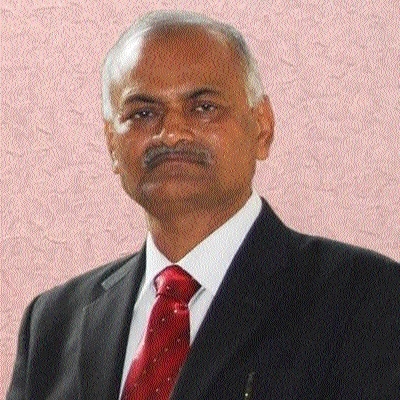 Dr Tatyarao Lahane
By Vikas Vaidya :
DMER Padma Shri Dr Tatyarao Lahane has brought e-aushadhi, e-office, increased intake for PG, taking services of private doctors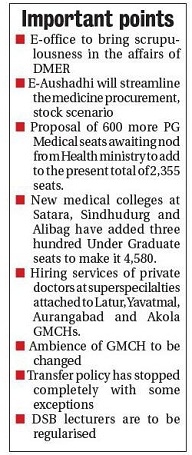 After suffering heavily from COVID-19, now, people of Maharashtra State from the last one month are heaving a sigh of relief due to the fall in number of cases, number of deaths and good recovery. Apart from administrative efforts, the credit goes to Medical Education Department. In most districts, the Government Medical College and Hospitals (GMCHs) managed the show. Even the people from rural areas having tested positive for COVID-19 approached the tertiary care hospitals. Director of Medical Education and Research (DMER) Padma Shri Dr Tatyarao Lahane who himself is a noted ophthalmogist played a vital role. Dr Lahane has simultaneously introduced several changes so that post-COVID too the department would function smoothly.
According to him, this particular sector has straight connection with the lives of humans so it must adopt all the advancements and can't become stagnant just because COVID is here. Though GMCHs provided better services in COVID as it runs on protocol, it has been observed not so many people preferred private hospitals once the Government allowed private operators to run COVID hospital. Whether Dr Lahane has some plan about it? "It is true. I have observed it. In fact, I can say with authority that medical education has contributed immensely. We will work on the ambience part of our hospitals. People should not have negative feeling when they enter the premises. We have a solid plan to facelift our hospitals. We are working on improving patient-doctor relationship. During novel coronavirus pandemic, we have developed a system wherein every patient or the relatives of the same get every update daily on phone.
I think communication makes all the difference," explained Dr Lahane while talking to 'The Hitavada' on phone from Mumbai During COVID, it has been found that most doctors preferred leaving GMCHs and joining some private set-up or start practicing. Dr Lahane immediately sensed it and came up with certain changes. "We changed our transfer policy. If a person is working in the GMCH of his hometown then we would not transfer him or her. Secondly, we have decided to regularise lecturers appointed through Divisional Selection Board (DSB). It is a long-pending demand of those teachers. We will soon come up with the solution as far as difference in recommendations of Seventh Pay Commission is concerned," informed Dr Lahane Since long, there have been a lot of issues being experienced by people associated with medical education at DMER due to which it fails to deliver result. One file keeps moving and some works never get completed. Dr Lahane assured, "Now people would not have any complaint with DMER as e-office would set everything at place.
People would not have to come to Mumbai. Their works would be completed online. We have asked the concerned people that one file should not remain pending for more than eight days." Recently, DMER has lost 107 Post Graduate seats and now under the leadership of Medical Education Minister Amit Deshmukh, its Secretary Saurabh Vijay, Dr Lahane has sent a proposal to Central Government seeking 600 more PG seats. "We have not lost 107 PG seats. The Apex regulating body wants compliance which we are filing and we will get those seats back. Plus we will get 600 more PG seats for sure. Presently, we have 2,355 seats which would become 2,955. We actually need manpower in terms of Residents. Presence of Residents boost research activities too," pointed out Padma Shri Dr T P Lahane. The State's MBBS intake right now is 4,280 and with introduction of three medical colleges - Alibag, Satara and Sindhudurg, 300 more seats added making the total intake to 4,580. There are some private doctors who have a lot of attachment towards their almamater.
Dr Lahane noticed it and he introduced a scheme under which the specialists doctors' services are being rendered in neurology, nuerousurgery, cardiogly etc at Latur, Aurangabad, Akola, Yavatmal super specialty. They would be given handsome honorarium but have to complete 48 hours of teaching. These type of teachers got nod from National Medical Commission (NMC) and their count would assume importance during inspection. There are some branches like Anatomy, Physiology, Biochemistry which don't attract youngsters. But Dr Lahane is planning to co-ordinate with these subjects' associations so that something should be done to get students attracted towards them