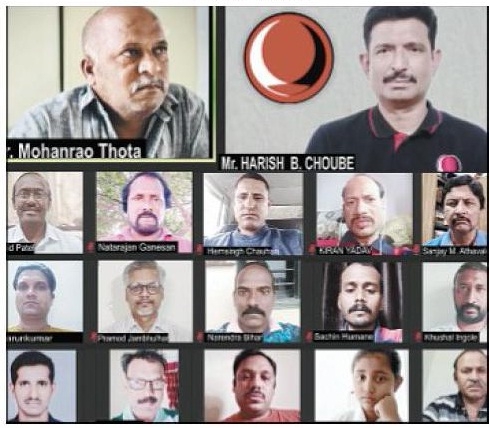 Principal Correspondent ;
"HANDBALL is an excellent cross-training sport that helps many athletes. Many professional coaches have ranked handball very high for top mental and physical development," said Mohanrao Thota, NIS handball coach, international player and Sports HOD, CMR Institute of Technology Thota was speaking during the online Karate and Sports Seminar for Physical and Spiritual Development of Sportspersons organised by Karate Budokan International (Vidarbha Region). "A government survey showed that compared to swimming, walking, cycling, handball is ranked on top for cardiovascular endurance, muscle strength and endurance, flexibility and balance.
It's a low cost sport which requires only gloves, goggles, a handball, and a good pair of runners," claimed Thota. Thota further added that handball develops every muscle on both sides of the body and can be played by sportspersons of all ages. "Anybody who is reasonably fit can enjoy this game. It is unique in it's way of developing confidence and ability to strategies and make decisions on ones own. Although typically played with 2-4 persons, handball is often played one-on-one and also offers the opportunity of training on your own," said Thota. Thota said that first official handball match was played in 1917 in Germany. "Men's handball was first played at the 1936 Summer Olympics in Berlin as outdoors, and the next time at the 1972 Summer Olympics in Munich as indoors.
Women's team handball was added at the 1976 Summer Olympics," informed Thota. "The International Handball Federation was formed in 1946 and has 197 member federations. The sport is most popular in Europe. European countries have won all medals but one in the men's world championships since 1938. In the women's world championships, only two non-European countries have won the title: South Korea and Brazil," Thota further said. Renshi Karunkumar Tirpude proposed a vote of thanks.