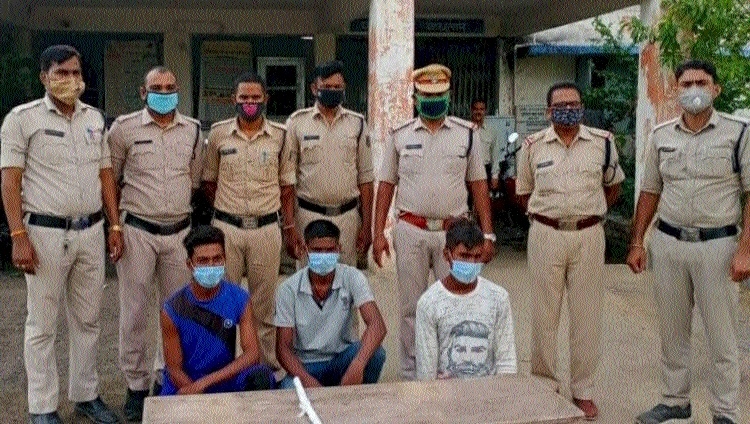 The accused in police custody.
Our Correspondent :
JANJGIR-CHAMPA,
Saragaon police has arrested 3 for murder of a local resident, Akash Ratnakar aged 27 years. The victim was killed brutally by jamming an iron rod in his throat. As per the information, Akash was allegedly found eve teasing the niece of accused Rakesh Kumar Rohidas (19). Since then, the latter had been looking for an opportunity avenge the insult. Rakesh sought help from two of his friends namely Karan Suryavanshi (21) and Raja Yadav (19). They called Akash to a lonely place and started smoking cannabis.
Gradually, they introduced the eve teasing incident and started scolding him for the same. They strangled Akash with his own scarf and Rohit hit him with an iron rod. The wound on his head started bleeding and Akash fell to ground. Raja took the rod and thrust it in the victim's mouth. Kicking it down his throat, they killed the man and then fled from the spot. Police came to know of the incident on Monday morning and during the investigation, found evidence against the accused. The three were arrested by police and sent on judicial remand.