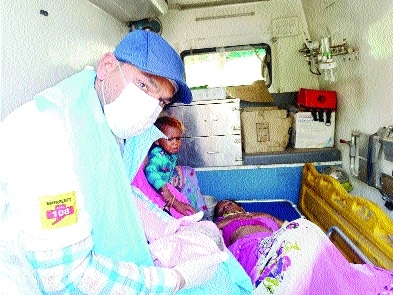 Ambulance EMT with the newborn baby girl and mother lying on ambulance's
stretcher in Bhopal on Wednesday.
Staff Reporter :
Prompt action by paramedical staff of 108-Ambulance helped a 25-year-old woman deliver a baby girl inside an ambulance while she was being rushed to JP Hospital in Bhopal on Wednesday. The baby weighs 2.5 kg and both mother and child are doing well. The woman was at her home in Sukhi Sewaniya (Rajeev Nagar) around 40 km from Bhopal city, when she developed labour pain. At around 4:11 pm, call centre of 108-Ambulance received a phone call from Sukhi Sewaniya and a nearby ambulance was headed to take woman to JP Hospital.
On the way, near Anna Nagar, the woman's condition deteriorated and the EMT Dharmedra Dhakad decided to perform delivery immediately without waiting to reach the hospital. The ambulance was parked on roadside and procedure was completed with help of local women. Once done, the ambulance resumed its journey with the woman and newborn. Ambulance driver Devendra Chaddhar took them safely to JP Hospital.