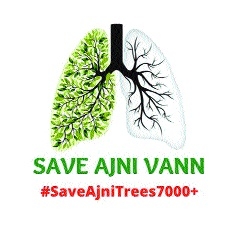 By Kaushik Bhattacharya :
On one hand, the National Highwat Authority of India (NHAI) has decided to translocate all the 5,000 trees of Ajni Vann in other parts of the city. On the other, the rift among environmentalists is also looming large over the shifting of trees. Recently, Union Minister for Road Transport and Shipping Nitin Gadkari chaired a meeting over the issue of Ajni Vann. Gadkari, in the meeting, decided to translocate all 5,000 trees which were earlier decided to be felled for construction of Inter Modal Station (IMS) in Ajni. In the meeting, Gadkari also directed the officials to go for compensatory plantation of 25,000 saplings in city limits.
A committee under former director of CSIR-National Environmental Engineering Research Institute Dr Satish Wate has also been formed to monitor the transplantation process and their subsequent maintenance. NMC has been asked to prepare a plan for implementing the transplantation process. Environment activists of the city called this decision a slow poisoning to the full grown trees because the technique has always flopped in the climate of Nagpur. However, a few environmentalists are supporting the decision of transplantation. "A translocated tree has to be shifted only to a site having same conditions of soil, weather and water availability. That means it cannot be taken far. Also when you translocate, directions of replanting are very important for survival. That means an east facing leaf and branch has to be transplanted in same alignment which is very difficult to implement," said Jaydeep Das, former Honorary Wildlife Warden. "The decision of translocation is a complete mockery of environmental norms and policies.
The tree act clearly states that a decision has to be taken after calling out objections and conducting a public hearing," said activist Anasuya Kale Chhabrani. Maha Metro, Forest Development Corporation of Maharashtra (FDCM) and Nagpur Municipal Corporation translocated many trees at different parts of the city. Not a single tree that translocated by Maha Metro and NMC were survived. However, FDCM claims that 80% of their translocated trees in Dr Balasaheb Thackeray Gorewada International Zoo are alive. But, there is no proof that authenticate their claim. However, in the contrast, a veteran Botanist and environmentalist Dilip Chinchmalatpure, is confident that proper care with expert knowledge will help to survive trees after translocation.
"Authorities gives contract of translocation of trees to a contractor who is unaware about the technique of shifting trees from one place to another. The authority hardly appoint any botanist or expert who is aware about trees. At this situation no tree will survive after translocation," said Chinchmalatpure to The Hitavada. "We cannot claim that 100% trees will survive after translocation, but we can increase the survival rate exorbitantly with proper expertise and care," the Botanist added.