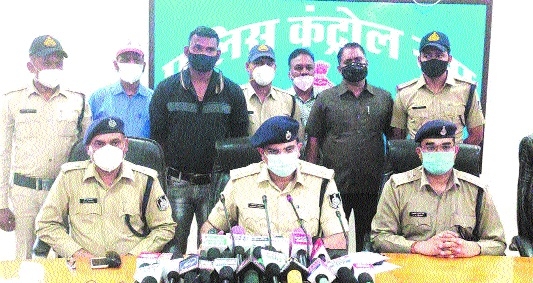 SP Siddharth Bahuguna, accompanied by police team, addressing a press conference. (Pic by Anil Tiwari)
Staff Reporter :
Jabalpur police have nabbed three members of an inter-state gang of ATM thieves and seized three ATM cards, two mobile handsets, a car, cash of Rs 65,000 and equipment used for breaking up ATM machines. The accused are BTech students of the Integral University, Lucknow in Uttar Pradesh and have stolen total Rs 45.96 lakh from ATMs in the NCR Company in last three years in Delhi, Gujarat, Haryana, Maharashtra, Rajasthan, Bihar, Uttarakhand, Uttar Pradesh, West Bengal and Madhya Pradesh. The accused have been identified as Vijay Yadav (25), son of Amrutlal Yadav, resident of Dharampur, Kanpur in Uttar Pradesh, Gagan Katiyar (23), son of Janendra Kumar Singh, resident of Kanpur in Uttar Pradesh and Ajit Kumar Singh (40), son of Murlidhar Singh, resident of Varanasi in Uttar Pradesh. Superintendent of Police, Siddharth Bahuguna disclosed this while addressing a press conference, on Wednesday. SP Bahuguna added that, on June 2, 2021, Sanjeevani Nagar police received information from Mahendra Bathre (38), resident of Kalimath in Amanpur that he was posted as Businessman Champion in Finolysis Software and Systems Pvt Ltd. He filed a complaint that on June 1, 2021, he repeatedly received messages of fault in ATM machine of NCR Company and when he reached at SBI ATM situated at Gullawa Chowk, he witnessed that a man was taking out cash from thte ATM machine with the help of screw driver.
He stopped the man who identified himself as Vijay Yadav and ran out from ATM centre and sat in a car in which two men were already sitting and they managed to escape in a thte Verna car. Bathre immediately called the Company Manager, Ajit Kumar Dubey, who called Cash Loading Agency's Deepak Rawat and auditor Ankur Bharadwaj and found that cash of Rs 77,000 was missing from the machine. They checked the other ATM machines and learnt that cash of Rs 10,000 was missing from another ATM machine situated at Garha Bazar. Sanjeevani Nagar police had registered a case under Sections 379, 382, 452 and 427 of IPC and started investigation into the case. Taking prompt action into the case, police team managed to catch one of the accused, Vijay Yadav who is a BTech student of Integral University, Lucknow. On his identification, police team nabbed his accomplices Ajit Singh, Gagan Katiyar from Kanpur and Mirzapur in Uttar Pradesh.