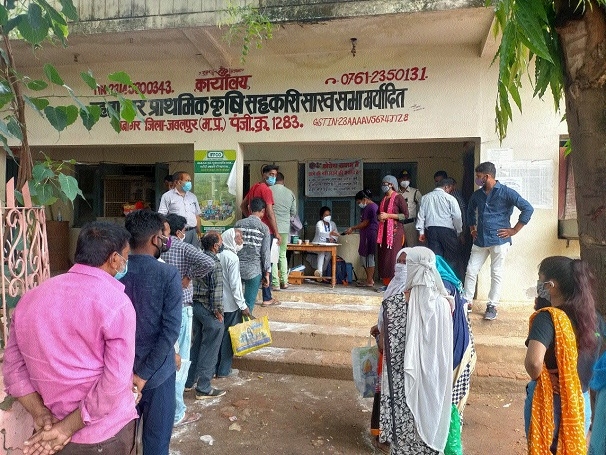 Beneficiaries assembled at the fair price shop for COVID vaccination.
Staff Reporter :
Constant innovative ideas are being implemented practically in Jabalpur district to intensify the pace of COVID vaccination drive. In the same unique initiative, the consumers approaching to collect ration, were vaccinated by organising vaccination camp at the premise of a Panagar-based fair price shop (FPS) on Wednesday. Nayeb Tehsildar, Panagar, Preeti Nagendra informed that around 150 beneficiaries were vaccinated till 11 am in the vaccination camp organised with the support of Health Department for the consumers of fair price shop. According to Nagendra, earlier few consumers refused to get vaccination but when the health team explained them about significance of vaccination to ensure protection from COVID-19, they were convinced for the same.
The Nayeb Tehsildar further informed that along with regular ration, free ration under National Food Security Mission and Pradhan Mantri Gareeb Kalyan Yojana is also being distributed at the fair price shops these days. Hence, the authorities concerned decided to organise a vaccination camp at the shop. It's publicity was made by carrying out munadi. After initial objection, the number of beneficiaries voluntarily approaching the camp, constantly increased. Small traders, shopkeepers, fruits-vegetable vendors, rickshaw pullers and labourers also came to get vaccinated in the camp. Soon, the organisers had to establish another centre with separate team to conduct vaccination drive. Earlier, the authorities concerned fixed the target of vaccinating 300 beneficiaries in the camp. While the deployed team achieved half of the fixed target by 11 am only.