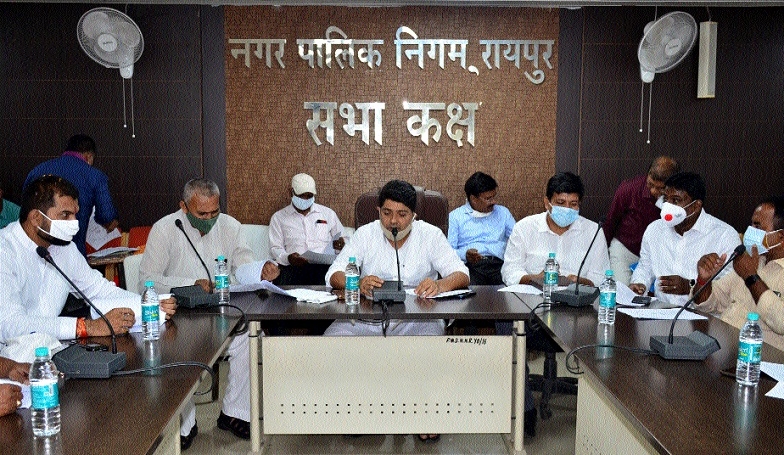 Mayor Aijaz Dhebar chairing the meeting of Mayor-in-Council at Raipur Municipal Corporation on Wednesday.
Staff Reporter :
RAIPUR,
The meeting of Mayor-in-Council (MiC) of Raipur Municipal Corporation (MIC) was held under the chairmanship of Mayor Aijaz Dhebar at the meeting hall of the RMC on Wednesday. At the beginning of the meeting, the newly-appointed RMC Commissioner Prabhat Malik was accorded warm welcome by Mayor Dhebar and the MiC members in the meeting. Various important decisions were taken in the meeting. Mayor praised the works of the frontline workers during the Covid-19 pandemic. He has asked all the Zone Commissioners to resolve pending applications received under 'Tuhar Sarkar Tuhar Dwar' camps at the earliest.
The MiC has approved Revenue Department's proposal for generation of details about properties. A detailed information regarding generation of property tax through software will be prepared by the RMC so that the property tax payers will get all information regarding counting of property tax. Property owner has to fill a form himself or herself and the form will be submitted to the concerned zone office within 15 days. The MiC also approved 30 cases of medical claims. Rs 43,75,945 was approved for the 30 cases of medical claims. A proposal to change the name of main road from Bhaisthan Chowk to Samta Colony in Zone-7 on the name of martyred Lieutenant Rajiv Pandey has been passed in the MiC meeting. Similarly, the MiC approved the Culture Department's another proposal to change the name of Fire Brigade Square after former Prime Minister Rajiv Gandhi. According to the rule, the MiC also recommended 814 new cases under Mukhyamantri Pension Yojana, in which 336 eligible and 478 ineligible cases. The MiC also recommended the Women and Child Development Department's proposal for selection of 4 anganwadi workers and 7 anganwadi assistants.
Other various proposals were also passed in the MiC meeting. RMC Commissioner Prabhat Malik, MiC members Gyanesh Sharma, Srikumar Menon, Nagbhushan Rao, Anjani Radheshyam Vibhar, Satnam Singh Panag, Ritesh Tripathi, Ajit Kukreja, Sameer Akhtar, Sahdev Vyavahar, Sundarlal Rukhmani Jogi, Jitendra Agrawal, Suresh Channavar, Akash Tiwari, Draupati Hemant Patel, Additional Commissioner Lokeshwar Sahu, Pulak Bhattacharya, Depty Commissioner and Secretary R K Dongare, Zone Commisisoners and other officers were present in the meeting.