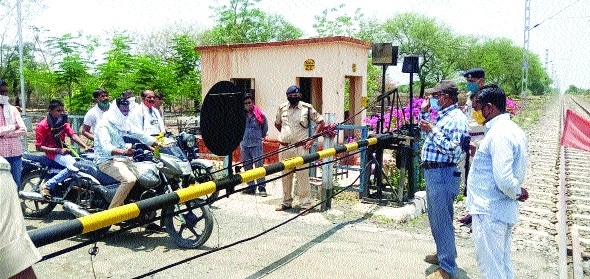 Safety team of Bhopal Railway division spreading awareness on the occasion of International Level Crossing Awareness Day (ILCAD) on Thursday.
Staff Reporter :
'Life is more precious than time, one should cross the level crossing only when the gate is open' this was the message given during a special awareness campaign organised by the safety team of Bhopal Railway Division to make road users aware on occasion of International Level Crossing Awareness Day (ILCAD) on June 10. A level crossing awareness campaign was conducted by the safety team at 39 out 120 busiest level crossing gates in the division. The team members gave necessary information to commuters and about 10,000 pamphlets on safety measures were distributed to make people aware. Notably, unmanned gates have been eliminated in Bhopal division and work of busiest crossing gates, including manned gates, is going on continuously.
On April 1, 2020, there were total 21,323 level crossing gates in Indian Railways, out of which 20,375 are manned and only 948 are unmanned. Most of the train accidents occur due to fault of road users, therefore to control these accidents this awareness campaign is organised worldwide. ILCAD is a worldwide initiative to improve awareness of level crossing safety. The campaign has been spearheaded by UIC, worldwide Railway organisation with the support of Railway community around the world. For safety of road users and passengers, Indian Railways is eliminating level crossing gates by constructing road overbridges and under bridge as per priority near busy level crossings.
Unauthorised opening of level crossing or obstructing duties of railway servant is an offense punishable under Section 160 and Section 146 of Railway Act 1989. This campaign attracts Railway industry representatives, road authorities, academics and many others from around the world working to raise awareness of dangers of level crossings. Divisional Railway Manager Uday Borwankar has appealed to the general public, social and private organisations for their contribution in conducting awareness campaigns and to prevent accidents.