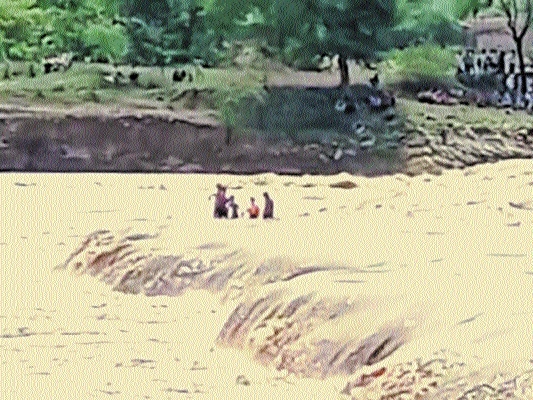 The four children stuck in the flooded Sunar river near Rahli, Sagar.
Our Correspondent :
Sagar,
Sudden flash flood in the Sunar river left four children stranded in the middle of the river on a hillock near Ranguvaon village in Garhakota area. After toiling for more than three hours, all the four children were saved. Pre-monsoon rains are lashing the district since last night and have resulted in sudden increase in water flow in the Sunar river. As per their daily routine, children went to tthe river to take bath but suddenly the water level started rising and they were caught in the flow. They climbed a hillock situated in the middle of the river and started screaming for help. Some local villagers saw the children and called others for help. But they could not rescue the children as flow of water in Sunar river was quite high and fast. Then they informed the police and district administration.
The rescue operation was started and after three and a half hours, the children were rescued with help of divers and ropes. District Collector Deepak Singh, SP Atul Singh also reached the spot to take stock of the rescue work. Villagers informed that in summer season, the Sunar river is mostly dried and local children reach upto the middle of the river to play. Early in the morning, four children, Rajendra Patel (8), Anand Patel (6), Krishnakumar Lodhi (15) and Durgesh (15)were in middle of the river when suddenly water started rising.
Due to high current, they could not climb back to the bank and instead climbed the hillock. But they were stranded in the middle of the river. Rescue operation was started and two divers jumped into the river but due to high flow only one diver could reach to the hillock where children were stranded. Then ropes were tied to the children and one after other, the children were brought to the bank of the river safely. In another incident in the same Sunar river in Rahli area, a labourer was stuck in the flood in the river while he was sleeping under the pillar of an under-construction bridge.