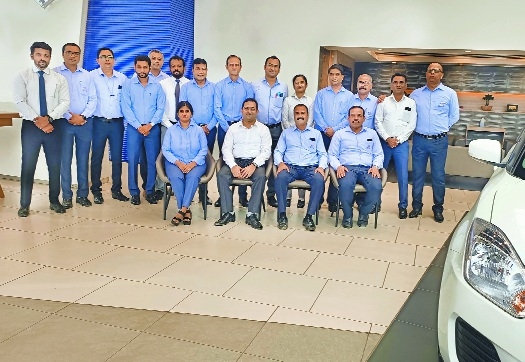 Business Bureau :
One of the leading dealerships in the city, Arya Cars has been awarded the highest Royal Platinum band by Maruti Suzuki for the 10th time for their Arena outlets. Not only that, the dealership achieved a double bonanza with the highest Alpha band for their Nexa outlets 6th year in a row, says the company in a press release. Arya Cars is the only Maruti dealer in Nagpur to be bestowed with both these prestigious awards. These recognition are based on excellence and all-round performance in sales, service, infrastructure, financials and customer satisfaction.
The directors Vishal Barbate, Nilesh Barbate and Satish Barbate have attributed this success to the continued support and faith of the discerning customers and the dedication of the team to provide highest levels of service and the best experience to the customers. Under the continuous guidance of CEO Tushar Thakare, Vipinsingh Gujar – CGM- Service, Shaheen Hossain – DGM HR, Umer Sharif Khan, DGM-Service, and with the sincere efforts of Mahesh Wankhede, Prashant Dubey, Sanjay Thakur, Ankush Patil, Raju Gade, Amol Bhoyar, Amit Chindhalore, Rajeev Rao, Narendra Thote, Chandrashekhar Mandade, Ashish Burhankar, Ratnapreet Gandhi, Indrajit Malvi, Anjali Parve and Abdul Salim, the group has been able to bag this coveted prestigious award. Maruti Suzuki India Limited categorizes all its dealers under six categories i.e.
"No Band", "Bronze", "Silver", "Gold" , "Platinum" and "Royal Platinum" being the highest category of band. Barbate Group have within it's fold the dealership of Maruti Suzuki India Ltd situated at Bhandara Road Pardi, Ashok Chowk Great Nag Road, Fulchur Road Gondia, Gadchiroli, Umred, Saoner with 3 S Setup, Arya Commercial at Lakadganj along with exclusive used car True Value Showroom at Manish Nagar with choice of more than 100 cars for Customers, Maruti Driving School at Ashok Chowk Nagpur and Premium Nexa Dealership at Pardi Naka Bhandara Road and Nexa Chandrapur with complete 3 S Set up.