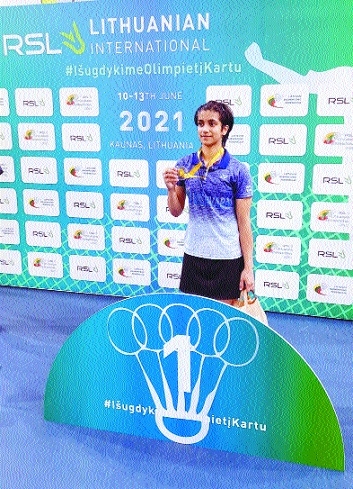 By Anupam Soni :
City teen bags her fourth international crown
ALWAYS a focused and sincere shuttler, an ever-improving Malvika Bansod completed a quartet of international titles winning the RSL Lithuanian International badminton tournament with consummate ease at Kaunas in Lithuania on Sunday. Third seed Malvika, who did not lose a single game in the tourney, got the better of fourth seeded Rachael Darragh of Ireland in straight games 21-14, 21-11 in women's singles final. Like all her five matches in the tourney, this match (29 minutes) too did not go for even half an hour. In top form, Malvika got off to a good start reeling in four straight points. She changed ends comfortably placed at 11-4. Rachael pulled her socks in the second half but Malvika was equal to the task and finally she sealed her first game on her third game-point.
In the second game, both the players competed well and were seven all at one stage. But Malvika raised her game to another level after that and simply gave no chance to the Irish opponent. Earlier in the first session, Malvika defeated France's Anna Tatranova also in straight games 21-13, 21-10 in the semi-finals. After bagging back to back crowns in Maldives International Future Series and Nepal International Series last year, Malvika had picked the Uganda title. In the meantime, she also won a bronze in the Bahrain international event. The 19-year-old was "delighted" with the win. "I am delighted to win this tournament. I played with good consistency and could execute my game as per the plan. This is my second gold medal after winning gold medal at Uganda international series.
"Our national anthem was played as the Indian flag rose and that was the proudest moment for me. It made my visit to Lithuania worthy," said the 19-year-old after clinching her fourth international title. "I want to thank my mentor, my guide and my coach Sanjay Mishra Sir for training me in such challenging COVID situation. I immensely thank my practice partners, each and everyone at the Police Parade Academy, Raipur for all their efforts.
It is god's sheer grace that in these tough times, I could participate in the tournament and perform well. Many thanks to my sponsors VIL Mr Arun Lakhani Sir, Go Sports Foundation and TOPS. Many thanks also to MBA, NDBA, District Sports Office for the constant support. I would like to extend my heartfelt thanks to the SRM IST and Union Club, Raipur for their co-operation," Malvika concluded.