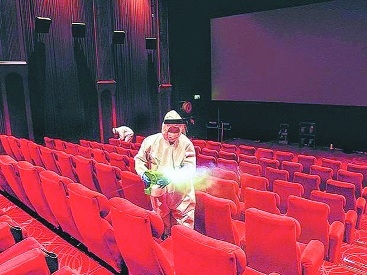 Business Bureau :
Though the district administration has begun phase-wise unlocking of the restrictions and allowed cinema halls to operate on certain conditions, watching movies in a theatre still remains a distant dream for the film lovers. All the multiplex and single screen cinemas in the city are closed. Under the latest SOP for the functioning of the movie halls, the authorities put certain conditions including restrictions on the occupancy and time for film exhibition. In an attempt to prevent the spread of coronavirus, the authorities gave permission to reopen theatres with 50 per cent capacity. In addition, the theatres are allowed to remain open only till 5 pm, the condition which seems to be not going down well with the exhibitors.
Raja Laharia, Manager of Pachsheel Cinema, said that reopening the theatres is not feasible in the current situation. "There are various parameters that are not favouring us right now and thus all of us are on the back foot. First of all, the time limit of up to 5 pm is not suitable for our industry as a sizable number of people watch movies during evening hours," he said. Ideally , the theatre owners conduct four shows of films in a day which needs at least 12 hours durtation. But till 5 pm they can hold only two shows which is economically not feasible for them. Highlighting another reason for not opening the theatres, Alok Tiwari, Owner of Janki Cinema, said that there are no new film releases.
"People come to theatres to watch new films. But right now the entire film industry is on the back foot and no new film is lined up. We do not have films to exhibit and thus we have decided not to operate," he said. "Films are released simultaneously across the country. But in many parts of the country, we still have restrictions because of the COVID-19. Due to this, the film producers are not releasing their films which is affecting all of us," he said.