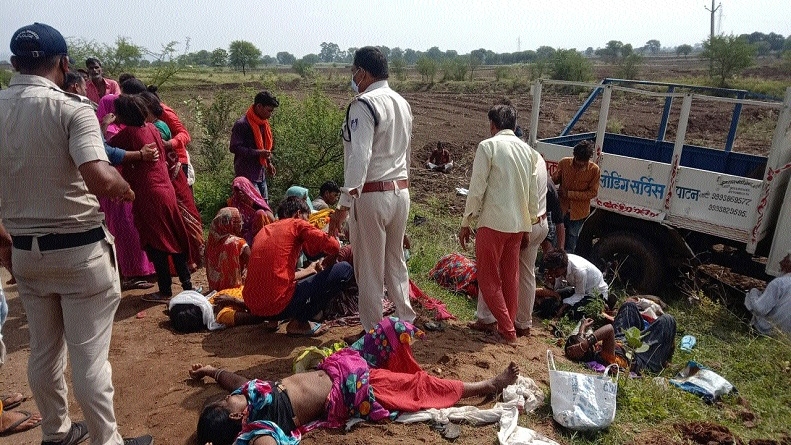 Policemen rescuing the injured on spot of accident in Patan.
Staff Reporter :
Two women were killed and 19 persons were injured when an overloaded speeding pick-up vehicle was overturned at Banvar village on Katangi road under the jurisdiction of Patan police station, on Sunday. The deceased have been identified as Somwati Gond (50) and Suman Sen (50), residents of Patan. SHO of Patan police station, Ashif Iqbal informed that police received information of a road accident on Katangi road at Banwar village. Receiving the information, a police team reached the spot where one of the injured, Lalsingh alias Babu Singh Gond (70), resident of Choudhary Mohalla in Patan informed that a pick-up vehicle (MP 20 GA 4783) which was ferrying labourers from Patan towards Chikhdi village for agricultural works.
The speeding pick-up vehicle was overturned due to careless driving. In the mishap, two women, Somvati Gond and Suman Sen were killed while total 19 were injured include Anju Thakur (20), resident of Ward Number-2, Patan, Rajni Gond (40), Muskan (18), Savita Thakur (35), Long Bai Gond (50), Johravi (60), Babu Gond (70), Shanti Bai Vishwakarma (45), Mithilesh Vishwakarma (30), Sumanta Bai Lodhi (45), Vinod Thakur (30), Kalavati Khangar (50), Anju Bai Gond (18), Govind Maravi (17), Sangeeta Thakur (30), Ragini Vishwakarma, Devkali Singh (45), residents of Choudhary Mohalla in Patan and Shivkali Sen (50) of Bargi Colony, Patan. Police rescued the injured from overturned pick-up vehicle with the help of villagers and rushed the injured at Patan Government Hospital through Government and private vehicles. Police sent the bodies of two injured for post-mortem after conducting Panchnama. Patan police have registered intimation while further investigations are underway to ascertain reason behind the incident.