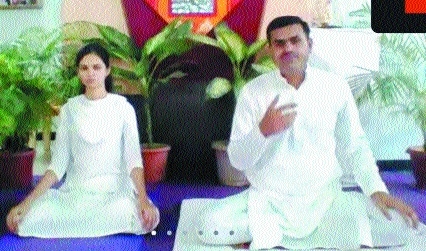 Principal Correspondent :
FOR the overall personal development of body, physical and mental stability is of utmost importance. For a healthy body, practising of yoga regularly is being preached since ages. Regular yoga exercise has been of immense help in keeping the mind and body fit. Similarly, to keep oneself mentally fit and healthy, yoganidra has been proved of a great help, said Dr Devanand Sonar, Director, Yoga Naturopathy Department, MJ College, Jalgaon.
Dr Sonar was speaking during the online workshop organised by Department of Sports and Physical Education, Rashtrasant Tukadoji Maharaj Nagpur University, Open and Distance Learning Centre Kavi Kalidas Sanskrit University, Ramtek, Shri Binzani City College and Nabira Mahavidyalaya, Katol. Speaking further, Dr Sonar advised that before starting pranayam, it is important to perform fast swasana. Dr Avinash Asnare, Director, Sports Department, Sant Gadgebaba Amravati University, presided over. National yoga player Jagruti Patle was the special guest. Dr Sharad Suryawanshi, Director, Sports and Physical Education, RTMNU, Dr Vijay Dhote were also present. Dr Rambha Sonaye conducted the event while Dr Renushri Bansod made introductory remark. Dr Amitkumar Khandekar proposed a vote of thanks.