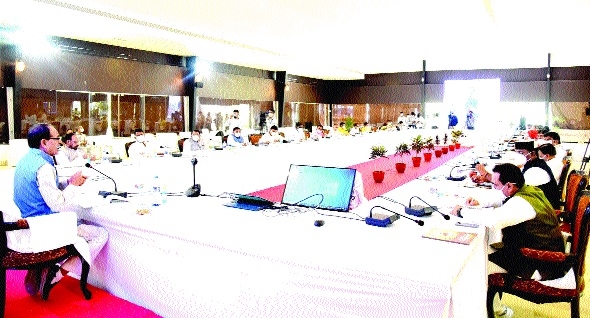 Chief Minister Shivraj Singh Chouhan discussing with Cabinet colleagues in an informal meeting in Sehore district.
Staff Reporter :
Chief Minister Shivraj Singh Chouhan said "At present we are facing a double challenge. You all have worked continuously to prevent spread of COVID infection in districts under your charge. As a result, Madhya Pradesh has got almost complete control over corona infection with the active co-operation of the people. Now, we have to put in all our efforts to ensure that the third wave of corona does not enter Madhya Pradesh and even if it does, its effect should be negligible."
Chouhan was interacting with Cabinet ministers during an informal meeting held in Ichhawar of Sehore on Monday. He said that public life has been adversely affected and pace of development has come to a standstill due to corona pandemic. We have to normalise public life and speed up development. In coming times, priority will be employment, education and welfare of all sections along with health. He said that public participation model of corona control of Madhya Pradesh has received all-round appreciation. In the coming times, we not only ensure that corona infection does not enter the State, but we must also fulfill the dream of a new 'Atmanirbhar Madhya Pradesh' by giving pace to the roadmap of Atmanirbhar Madhya Pradesh.
"Not me or you, together we will create the history of the State," he told. He said that to prevent third wave of corona infection, we must work on a solid strategy to minimise its impact. Looking at global scenario, it is estimated that there is a possibility of a third wave in next three or four months. The possibility of a third wave will increase due to rise in activities as a result of unlock and non-compliance of COVID guidelines. We will have to remain constantly alert and aware."