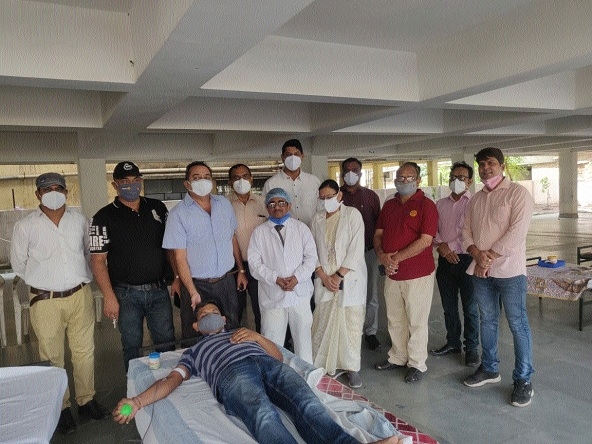 IMA office-bearers during the blood donation camp.
Staff Reporter :
Around twenty units of blood were collected during the blood donation camp held by Indian Medical Association at IMA building on the occasion of World Blood Donation Day on Monday. The camp was organised under joint banner of Jabalpur branch of IMA, Rotary Club West, DISHA Welfare and Giants Club and direction of IMA President, Dr. Deepak Sahu. The medical team under the supervision of Joint Director, Health Services, Jabalpur Division, Dr. Sanjay Mishra from Rani Durgavati Hospital (Lady Elgin) and Dr. Anita Jain from Seth Gobinddas District Hospital (Victoria) contributed to collect blood with all precautions in view of ongoing COVID-19 pandemic.
MLA Vinay Saxena deeply appreciated IMA's initiatives to arrange blood for the beneficiaries and said that during COVID period, such blood camps become more significant throughout. IMA office-bearers including Dr. Arvind Jain, Dr. Rakesh Pathak, Dr. Sunil Bahal, Dr. Brijesh Choudhary and others extended their gratitude towards all participants for their support. On behalf of Rotary West, Nirmal Parihar, Deepak Singhai, Shailesh Soni, Deepak Mishra and Sarabjeet Narang from DISHA Welfare rendered remarkable contribution in organising the camp.