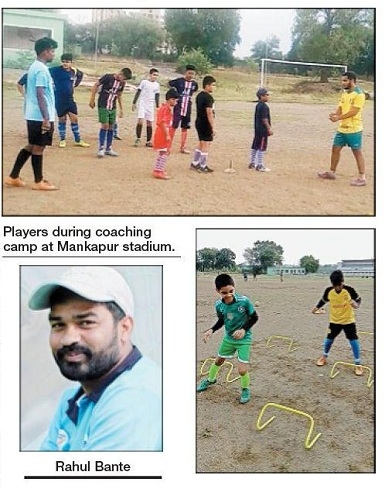 Principal Correspondent :
BUDDING footballers are back on the field at the Divisional Sports Complex, Mankapur. The outside field opposite the indoor hall was abuzz with kids learning basic skills at the DDSYS Football Academy (Deputy Director Sports and Youth Services). With Nagpur Municipal Corporation (NMC) easing out COVID-19 restrictions, the academy started the camp for budding footballers aged between 5 and 21 years a couple of days back.
It has been more than four months the training had to be stopped due to lockdown in the city since the end of February. But after Municipal Commissioner Radhakrishnan B permitting sports activities from 5-9 in morning and evening, clubs and academies are slowing getting back on the field. The coaching at DDSYS Football Academy is being held between 7 am to 8.30 am and 5 pm to 6.30 pm under the watchful eyes of coach Rahul Bante. Bante, who is a D Licence coach and has played for Maharashtra and Nagpur University apart from representing NDFA in district tournaments, is helping the budding players in training them with basic skills and drills.
"We are back on field after four months. We have started with basic skills and stamina building exercises. Starting with warm-up exercises I am giving training in strength building. Practise matches will start after some time. I am focusing first on stamina building and strength building," Bante told 'The Hitavada' "Players are being asked to work hard on speed and stamina building, flexibility of the body. They are also doing yoga and meditation," added Bante.