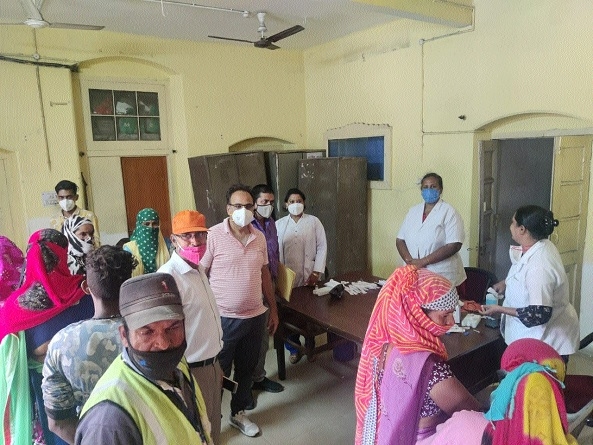 Officials and employees getting vaccinated during the camp organised at JMC headquarters.
Staff Reporter :
The Jabalpur Municipal Corporation (JMC) is toiling hard to achieve the target of cent per cent vaccination. The civic body is organising special camps to motivate employees and officers and get them vaccinated. On the initiative of Municipal Commissioner Sandeep G R, a large number of senior officials and employees of the JMC have been administered corona vaccine so far. Accordingly, a vaccination camp was organised at JMC headquarters. More than 132 municipal employees were given vaccine shot. Out of the total, as many as 110 sanitation employees got the second dose of corona vaccine.
District Immunization Officer S S Dahiya also visited the JMC headquarters and inspected arrangements were made for administering vaccine to employees. On the occasion he expressed satisfaction over the arrangements and asked concerned senior officials to continue the same and ensure each and every employees of the Municipal Corporation is get vaccinated. Speaking on the occasion, Municipal Commissioner Sandeep G R informed that the JMC administration is organizing special camps to get vaccinate its employees and protect them from the dreadful virus.
He said as the vaccine is playing vital role in protecting people from covid-19, the JMC administration is ensuring that all employees must get both the shots of covid-19 vaccine. He said the camps would be continued till all employees get due benefit of the same. Health Officer Bhupendra Singh, AHO Anil Bari and other senior officials were also present on the occasion.