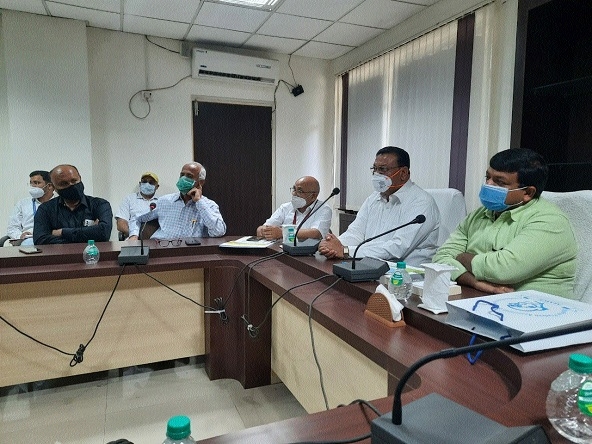 MPSIDC MD John Kingsly, accompanied by other officers, chairing a meeting.
Staff Reporter :
"Development of industrial activities needs a healthy environment and positive public mindset to attract investors for setting up new industries. The State Government is providing all necessary support for attracting new investors but it is the responsibility of locals to exhibit their potentials and providing positive environment for desired industrial development," said says John Kingsly, Managing Director of the Madhya Pradesh State Industrial Development Corporation (MPSIDC).
The MPSIDC MD was chairing a meeting with representatives of different industrial organizations at Udyog Bhawan, on Monday. MPSIDC, Executive Director, C S Dhurve informed that informed that two new industries units of Ethanol production have been proposed to set-up in the division at Jabalpur and Balaghat. Around 30-acres land has been allotted to Balaji Industry (Balaghat) in Balaghat and industry will be established with the investment of above Rs. 100 crores while land allocation will be soon taken place in Jabalpur. Earlier, MD John Kingsly conducted the inspection in Maneri and Umaria Dungaria industrial areas and sought information about development activities and work in progress. During the meeting, JCCI, Vice-president, Himanshu Khare, Pankaj Maheshwari, MCCI, President, Ravi Gupta, MAWE, President, Archana Bhatnagar, Mahakaushal Udyog Sangh, DR Jeswani, Labhu Udyog Bharti's Pramod Singhai, Praveen Sharma, Umaria Dungaria Association's Munindra Mishra, MPSIDC, ED, Dhurve, DTIC, General Manager, Devvrat Mishra and other concerned officers were present.