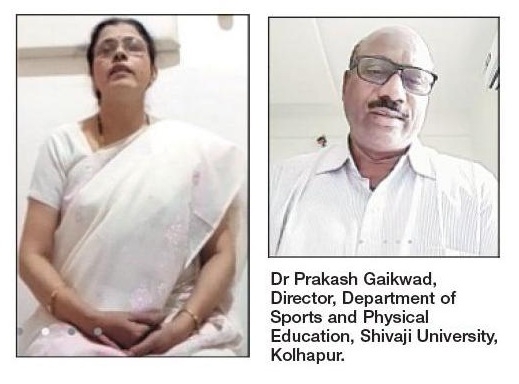 Sports Reporter ;
TERMING Omkar as "mahamantra", yoga expert and a naturopath Sujata Dravyakar said that it was a very good exercise for lungs and helps in keeping body and mind calm. Dravyakar was speaking on the topic 'Omkar for Mental Health' in the series of online seminars organised by Department of Sports and Physical Education, Rashtrasant Tukadoji Maharaj Nagpur University; Open and Distance Learning Centre Kavi Kalidas Sanskrit University, Ramtek; Shri Binzani City College and Nabira Mahavidyalaya, Katol. Addressing the participants, Dravyakar said, "Omkar is a mahamantra and helps in keeping the body and mind calm. It is the first step to deep breathing.
To strengthen lungs, reciting omkar is one of the best exercises. As it calms the mind, chanting omkar aids in enhancing concentration. Those associated with shooting, archery, golf and chess can derive benefits by practising omkar. Players who suffer form anxiety are also advised to recite omkar." Dravyakar, who is Assistant Professor, Chakrapani Panchkarma Yoya Naturopathy Mahavidyalaya, Nagpur, further said, "Players try to assess themselves with visualisation techniques prior to any tournament and if that visualisation is preceded by a session of omkar, it helps them immensely." Dr Prakash Gaikwad, Director, Department of Sports and Physical Education, Shivaji University, Kolhapur presided over the session. Rajsi Mule was special guest on the occasion.
"Sportspersons must chant omkar for mental strength. It should be used along with pranayam. Yoga helps in gaining control over self," said Dr Prakash Gaikwad. Dr Aditya Soni, Assistant Professor, Vasantrao Naik Sharirik Shikshan Mahavidyalaya, Nagpur conducted the proceedings. At the outset, Dr Hrishikesh Dalai of Kavi Kalidas Sanskrit University, Ramtek made introductory remarks. Dr Shrivarda Malge proposed a vote of thanks.