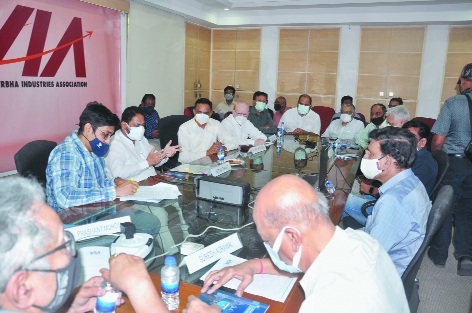 Business Bureau :
Maharashtra Minister for Energy Dr Nitin Raut on Monday asked the distribution company to share data of power consumption with the Joint Coordination Committee (JCC) and Vidarbha Industries Association (VIA). Raut was interacting with the members of the JCC here at VIA office. It is important to note that the fund of Rs 1200 crore earmarked under the scheme for Vidarbha and Marathawada regions has exhausted because of which the consumers of the regions could not get relief in power tariff. During the meeting, Dr Raut directed the concerned authorities to share the consumption and incentive related data for the past two years with VIA.
He also asked the committee to the give suggestions at the earliest possible so that the restructuring of the new policy could be finalized. As per the suggestions given earlier to the Minister, VIA and JCC discussed the issues like putting a cap per month per consumer; separate fund to be provided by GoM for giving 75 paise for new industries and expansion as envisaged in circulars issued earlier. They also discussed FAC incentive; restructuring of various slabs of incentives; benefit for MSME to be increased so that MSME's can garner higher share in the total incentive scheme; 11 and 33 KV connection to be merged as they have same tariff structure now.
Principal Secretary, Energy, GoM, and senior officials of MSEDCL also joined the meeting. Suresh Rathi, President - VIA, Shashikant Kotharkar, Secretary -BMA, Nishchay Shelke, President - DICCI Vid, Rakesh Surana, President - VPIA, Sachin Jain – Secretary-MIA, Shrikant Dhondrikar - President, LUB (Nag); R B Goenka – VP, VIA; Prashant Mohota, Chairman - VIA Energy Forum; Suresh Agrawal – Past President, VIA; Pravin Tapadia, Rohit Bajaj, Dr Suhas Buddhe, Pankaj Bakshi, Girdhari Mantri, Pradeep Maheshwari and others were present in the meeting.