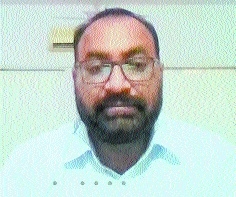 Dr PS Shekhwat
Sports Reporter ;
"Preksha meditation helps in relieving physical and mental stress," stated Dr Pradyuman Singh Shekhwat during a webinar on Tuesday. Head of the Department of Life Sciences at Jain Vishwa Bharati Institute Deemed University, Rajasthan, Shekhwat was addressing participants during a seminar of 'Importance of Preksha Meditation.
The series of online seminars is being organised by Department of Sports and Physical Education, Rashtrasant Tukadoji Maharaj Nagpur University; Open and Distance Learning Centre Kavi Kalidas Sanskrit University, Ramtek; Shri Binzani City College and Nabira Mahavidyalaya, Katol. Shekhwat said a particular sequence must be followed while performing yoga to derive optimum benefits. "Asan, pranayam and dhyan, this sequence must be followed while doing any yoga or meditation for optimum benefits. For relieving oneself from the rigours of daily exercises and physical and mental stress that one encounters during any tournament, performing preksha dhyan (preksha meditation or preksha dhyan is a popular meditation technique of Jainism. Preksa was practised by Mahavira 2600 years ago.
The word 'preksha' is derived from the Sanskrit root which means 'to see') is very important," said Shekhwat. There are eight important steps in preksha meditation. "Relaxation with self awareness, internal trip, perception of breathing, perception of body, perception of psychic centre, perception of psychic colours, auto suggestions and contemplation are the eight steps," he said. Dr Anil Kumar Karvande, Member of Management Board, Rani Laxmibai National Institute of Physical Education presided over. International yoga player Vaibhav Shrirame of SB City College was special guest on the occasion.