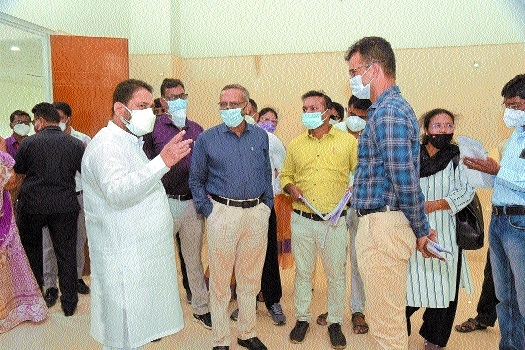 Dr Nitin Raut making a point as officials listen seriously.
Principal Correspondent :
TO GENERATE interest among sportspersons of North Nagpur and to give best facilities to those already involved in sporting activities, Guardian Minister Dr Nitin Raut granted Rs five crore for construction and completion of Dr Babasaheb Ambedkar Taluka Sports Complex in Jaripatka. Dr Raut visited the sports complex and asked the concerned officials present to submit new proposal to the District Collector.
The Dr Babasaheb Ambedkar Taluka Sports Complex is coming up on a 2.5 acre of land in Jaripatka which will help sportpersons reach greater heights and play for the country in future. The sports complex will be maintained by Nagpur Municipal Corporation while the State Government will bear the entire construction cost, informs a press release. At present sportspersons are getting training in badminton, skating, rifle shooting, table tennis, karate, fencing and yogasana at this Taluka Sports Complex. Dr Raut said that to imbibe sports culture in kids from a young age, a separate section should be made for them. "A swimming pool for kids and a 200 metre synthetic track should also be laid at the venue," Dr Raut informed the officials.
"A separate hall for boxing, table tennis, volleyball, table tennis apart from an administrative office should also be constructed here," added Dr Raut. Dr Raut visited rifle shooting range and tried his hands in rifle shooting. He also visited fencing hall, karate, taekwon-do hall, table tennis coaching centre. He also plantated trees at the venue. He District Collector Ravindra Thakare, NMC Superintendent Engineer Leena Upadhyaye, Tahsildar Suryakant Patil, District Sports Officer Avinash Pund, Taluka Sports Officer Asha Meshram, Amit Paranjpe, Rajesh Ghotale, Pankaj Ambhorkar, Sanjay Pohekar, Ravi Sonkusre, Kiran Yadav, Ravi Shende, Shabnam Khan, Satish Pali, Gautam Ambade, Jyoti Khobragade, Dilip Jaiswal, Sofia Sheikh, Ruksana Begum, Bilal Khan, Panchfula Chandekar, Babu Khan, Moeen Siddique, Roshani Ansari, Vijja Kumari, Kiran Uchi, Chhaya Kosre, Chandrakala Gharde, Indu Sharma, Usha Gajbhiye, Dilip Chaurasia, Ramesh Chandekar and others were also present.