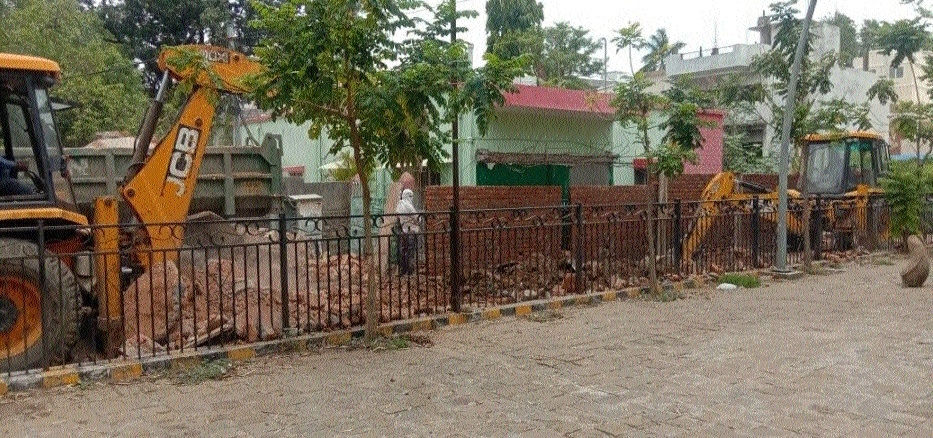 JMC employees removing front portion of the house which was obstructing traffic adjacent to Cultural Street.
Staff Reporter ;
The Jabalpur Municipal Corporation (JMC) took action against the permanent structure which was creating obstruction in smooth movement of traffic adjacent the Cultural Street. The Public Works Department, Health and Anti-encroachment of JMC, under a joint drive removed the structure. Senior officials informed that the building owner Richard Eric Robinson, by keeping in mind the interest of city, provided 270 square feet of land free of cost. After the same, Municipal Commissioner Sandeep G R directed concerned officials to remove the portion of building, which was hindering traffic movement.
With disposal of the long-pending matter, now the citizens would feel ease on the route. The Municipal Commissioner informed that the building owner who is living in Australia, took a decision in the interest of the city and agreed to provide the front part of his house free of cost. After his consent action was taken to remove the construction. The Municipal Commissioner said now the citizens would face no inconvenience while riding vehicle on the route adjacent to cultural street. Among the senior officials present on the occasion were Assistant Commissioner Ved Prakash, Executive Engineer R K Gupta, Assistant Engineer Bahuwali Jain, Sagar Borkar, Atul Raikwar and others.