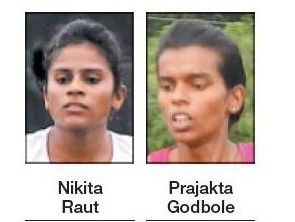 Principal Correspondent :
CITY'S international athletes, Nikita Raut, Prajakta Godbole along with six others will be taking part in the two-day Maharashtra State Athletics Selection Trials which begins from June 16. The State selection trials are going to be held at Minatai Thakre Sports Complex in Nashik. The trials are being organised by Nashik District Athletics Association under the aegis of Maharashtra Athletics Association. While Nikita and Prajakta will be attending the competition cum trials in two race categories, others from the district will represent Nagpur in one category.
Long distance runners Nikita and Prajakta will be taking part in 5000 metres and 10000 metres women race while Yamini Thakre will be trying her luck in 1500 metres women race. In 100 metres men's category, Vrushabh Bhatulkar and Sushank Rindhe will be seen in action. In 1500m men's category, Nikhil Khobragade will be taking part. There will be only one round in track events and the positions will be decided according to the performance achieved by the athlete. The qualifying timing for 100 metres is 10.75 secs while for 1500m men it is 3:52.00 sec.
For 1500m women it's 4:30.00 sec. The qualifying timing for women's 5000m race is 16:52.00 sec while for 10000 it is 35:00.00 sec. The selected players will represent Maharashtra in 60th National Inter-State Athletics Championships to be held at Patiala from June 25-29.