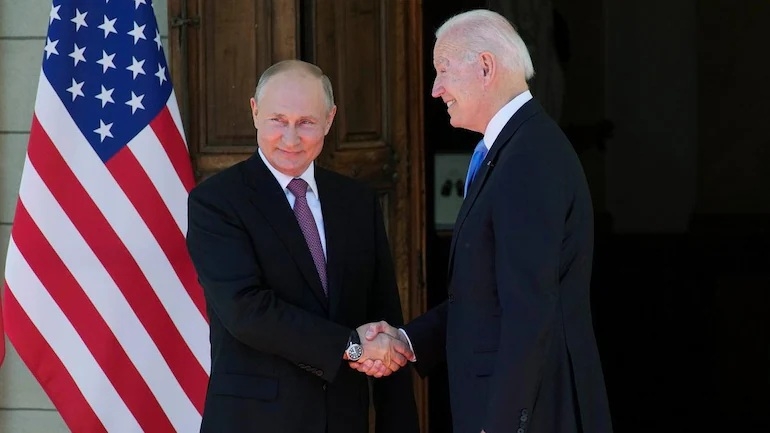 GENEVA :
Before the beginning of talks Putin said he hoped they would be "productive", while Biden told him, "it is always better to meet face to face" Both the leaders avoided looking directly at each other during a brief photo opportunity n By Aamer Madhani, Jonathan Lemire and Vladimir Isachenkov
US PRESIDENT Joe Biden and Russian President Vladimir Putin concluded their summit meeting on Wednesday between what the American leader called "two great powers," wrapping up more quickly than expected. The pair's second sit-down, with aides present on both sides, lasted about 65 minutes. That session was to be divided into two parts with a break in between, but concluded without a second part.
The two sides had said they expected to meet for four to five hours but spent less than three hours together, including an opening meeting with just the two Presidents and each one's top foreign aide. Biden and Putin plunged into the face-to-face talks on Wednesday at a lush lakeside Swiss mansion, a highly anticipated summit at a time when both leaders say relations between their countries are at an all-time low. As the two leaders appeared briefly before media at the start of the meeting, Biden called it a discussion between "two great powers" and said it was "always better to meet face to face." Putin said he hoped the talks would be "productive."
The meeting in a book-lined room had a somewhat awkward beginning — both men appeared to avoid looking directly at each other during a brief and chaotic photo opportunity before a scrum of jostling reporters. Biden nodded when a reporter asked if Putin could be trusted, but the White House quickly sent out a tweet insisting that the president was "very clearly not responding to any one question, but nodding in acknowledgment to the press generally." Putin ignored shouted questions from reporters, including whether he feared jailed Russian opposition leader Alexei Navalny.
The two leaders did shake hands — Biden extended his hand first and smiled at the stoic Russian leader — moments earlier when they posed with Swiss President Guy Parmelin, who welcomed them to Switzerland for the summit. Putin says, Navalny deserved prison sentence: RUSSIAN President Vladimir Putin says opposition leader Alexei Navalny got what he deserved when he was handed a prison sentence. Navalny, Putin's most ardent political foe, was arrested in January upon returning from Germany, where he spent five months recovering from a nerve agent poisoning that he blames on the Kremlin — an accusation that Russian officials reject. In February, Navalny was given a 2 1/2-year prison term for violating the terms of a suspended sentence from a 2014 embezzlement conviction that he dismissed as politically motivated.