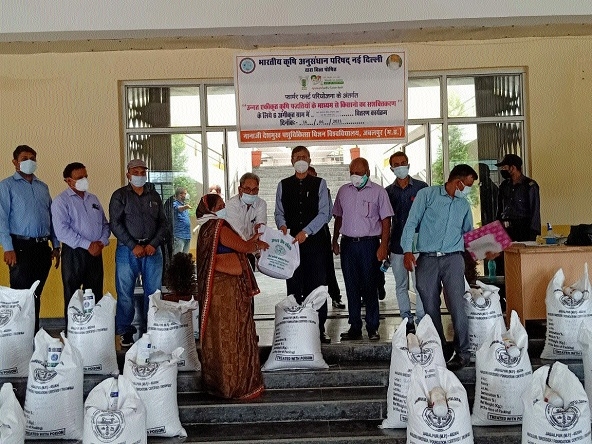 NDVSU, VC, Dr. SP Tiwari, accompanied by other officers, seen distributing quality seeds amongst farmers.
Staff Reporter :
Nanaji Deshmukh Veterinary Science University (NDVSU), Vice-Chancellor, Dr Sita Prasad Tiwari distributed quality breeder seed of paddy JR-206 to 25 women and men farmers of six adopted villages, on Wednesday. Quality paddy seeds were distributed under the head of Farmer First Project to villagers of six adopted villages include Padaria, Silua, Ghana, Chattarpur, Kailwas and Devri. Agriculture Scientist, Dr S B Agrawal educated the farmers about integrated agriculture system for organic farming through advanced technology to strengthen their production and increasing agricultural income.
Agriculture Scientist, Dr Shekhar Singh Baghel gave valuable suggestions on organic farming and advised the farmers for not burning straw at farms. Progressive farmer Ashok Kewat of Devri village shared his experiences with farmers of taking utmost benefits of advanced technology for increasing agricultural income. During the programme, Farmer First Project's Dr A K Gaur, Dr Hari R informed the farmers about several beneficial schemes for farmers. On the occasion, Dr Ankur Khare, Raunak Mishra, Ashish Yadav, Vijay Choukse and others were present. Dr Anil Kumar Gaur convened the programme while Devesh Upadhyay, Senior Researcher proposed vote of thanks.