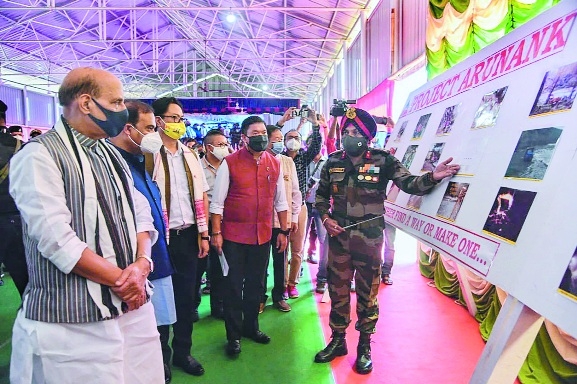 Union Defence Minister Rajnath Singh during inauguration of Kimin-Potin Road in Assam's Lakhimpur district. (PTI)
KIMIN (Arunachal) :
IN A statement seen as an implicit message to Beijing, Defence Minister Rajnath Singh on Thursday said that though India is a peace loving country, it has the capability to reply to aggression. Dedicating 12 strategic roads constructed by the Border Roads Organisation (BRO) to the nation here, Singh described India as a priest of world peace but added that any serious disturbance to peace and tranquility in border areas would have adverse implications.
"We seek world peace (but) if someone shows us an aggressive attitude, we will respond," Singh said, adding the "new roads will help secure international borders." Singh's statement comes against the backdrop of China continuing to hold on to positions in Hot Springs and Gogra Post on the border, after clashes between the armies of the two Asian giants in the bleak Galwan Valley in Ladakh a year ago. Singh said, the 12 strategic roads including 10 in Arunachal Pradesh and one each in Ladakh and Jammu & Kashmir, inaugurated during the day, would not only give a boost in connectivity but would facilitate faster movement of troops along the international border.