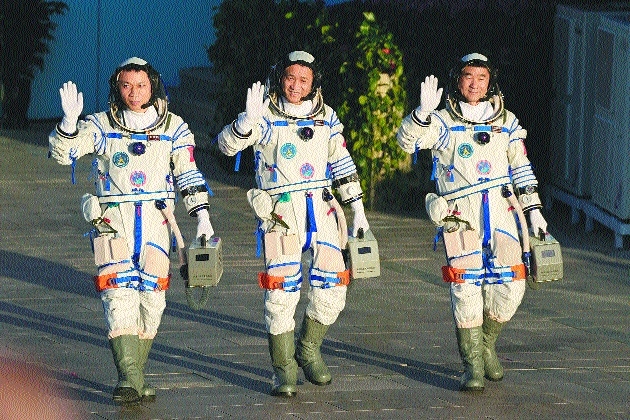 By K J M Varma :
BEIJING/JIUQUAN,
THREE Chinese astronauts on Thursday entered the country's new space station after their spaceship successfully docked with it, just over seven hours after the launch from the Gobi Desert, in a major milestone for the Communist giant's space exploration plans and its bid to become a leading space power. According to the China Manned Space Agency (CMSA), Shenzhou-12 manned spaceship successfully docked with the space station core module Tianhe on Thursday and entered the orbital capsule from the return capsule of the spaceship. After a series of preparations, the astronauts opened the hatches of the node and the Tianhe module and entered the Tianhe module one by one, signifying that for the first time the Chinese have entered their own space station, the CMSA said. The trio will carry out relevant work as planned, it said in a statement here.
The spaceship, launched on Thursday morning, completed orbital status setting after entering the orbit and conducted a fast autonomous rendezvous and docking with the front docking port of Tianhe, forming a three-module complex with the cargo craft Tianzhou-2, the state-run Xinhua news agency reported. The whole process took approximately 6.5 hours. This is Tianhe's first rendezvous and docking with a Shenzhou spaceship since it was sent into orbit on April 29, the report said.
Earlier, the spaceship, atop a Long March-2F carrier rocket, was launched from the Jiuquan Satellite Launch Center in northwest China's Gobi Desert. In a textbook launch, telecast live by the official television channels, spacecraft Shenzhou-12 sent the three astronauts into the same orbit of the core module of Tianhe launched in April. Billed as the most prestigious and strategically important space project for China after the country's recent Mars and previous Moon missions, the low orbit space station would be the country's eye from the sky, providing round the clock bird's-eye view for its astronauts on the world. The astronauts, commander Nie Haisheng, 56, Liu Boming, 54 and Tang Hongbo, 45, will stay there for a three-month long mission to carry out the painstaking work of building the space station, which is expected to be ready by next year.