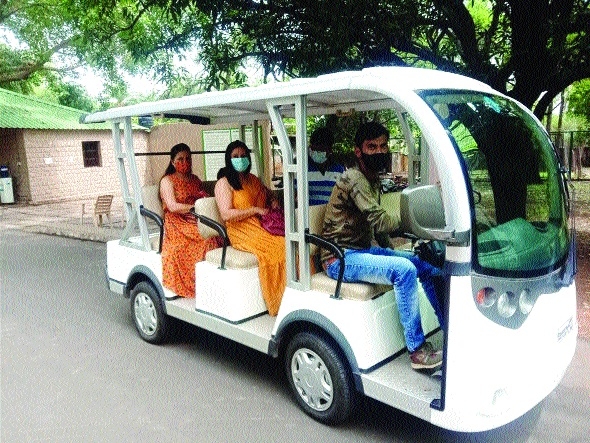 Visitors taking a ride on the first day of reopening Van Vihar National Park.
Staff Reporter :
Van Vihar National Park is finally reopened for tourists after two-month Corona Curfew on Thursday. On the first day, there were 1,095 tourists who visited the park and Van Vihar earned a revenue of Rs 47,120. Tourist are allowed to visit the park from 6 am to 7 pm. The park will remain closed on every Friday and Sunday as it is weekly off of the park on Friday and Sunday is Janata Curfew. However, on first day there were fewer number of visitors. People were screened at entry gate and they were allowed to enter.
The park was closed on direction of district administration to follow COVID guidelines. After reopening of park, use of mask, social distancing and hand sanitisation will be mandatory for all. No one is allowed to enter the park without mask covering their nose and mouth. Ashok Jain, Deputy Director of the park said, "The park has been reopened from Thursday onwards under strict safety measures. Thermal screening has been made mandatory at both entry gate and people are not allowed to gather at one place inside the park." He further said entire park has been sanitised and people are not allowed to gather at one place as part of social distancing practice.