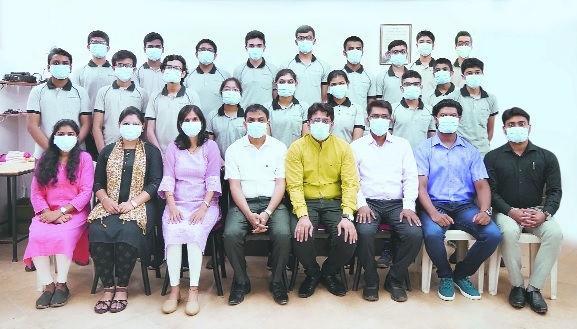 Resonance Nagpur Pre-Foundation students have achieved a record feat this year. In continuation of its efforts of delivering power packed performance year after year, this year too Resonance Nagpur Pre Foundation Division has bagged highest number of selections for NTSE finals.
Out of the total 36 students qualified for finals from whole Nagpur district, 18 students are from Resonance Nagpur's classroom programme alone. District Topper 1, 2 and 4 in General Category are from Resonance Nagpur. Those who made Nagpur city proud are Mohit Dalwani (District 1st Topper-Gen.), Mrunal Vairagade (District 2nd Topper -Gen), Om Prakash Barik (District 4th Topper-Gen) and rest of the students are Prakhar Singh, Shubam Desai, Abhishek Singh, Prajwal Pawar, Ananya Landge, Arju Patle, Vrunda Wahane, Aryesh Jambulkar, Vedant Bansod, Yogesh Mundle, Pravin Shreerame, Bhavishya Peshne, Arsh Aryan, Shravani ilkar and Prathmesh Bende.
Resonance Nagpur's Director Abhishek Bansal and Head of Pre-Foundation Division Gopal Madhvani have sent their congratulatory compliments to all qualified students in NTSE-Stage-1 and told them to keep working hard in upcoming academic future.
Resonance Pre-Foundation division of Nagpur, has proven out to be a diamond mine of talent in young children. PCCP Division takes care of school Academic Syllabus with a view to hone their talent for big competitive exams ahead. It admits students from class 7th onwards and refines them from grassroot level for high school competitive exams viz. NTSE, KVPY Olympiads, NMTC etc. to name a few.
Resonance Nagpur is starting special classes for the preparation of NTSE-Level-II. Students from outside Resonance can register for these classes also, to join NTSE-II classes and any courses of Resonance Nagpur call 9373507998, 9372137857.