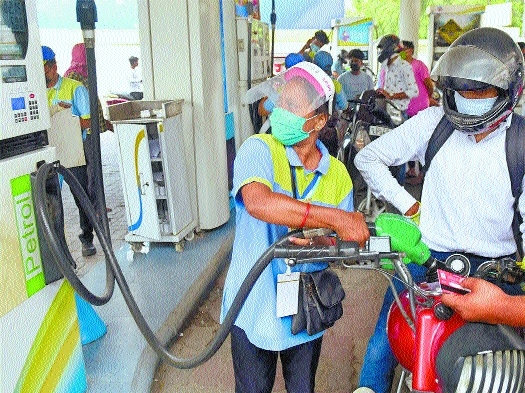 BENGALURU on Friday became the third metro city in the country to see petrol price cross Rs 100 per litre mark after fuel prices were raised yet again. Petrol price was hiked by 27 paise per litre and diesel by 28 paise, according to a price notification of State-owned fuel retailers. The hike -- 26th in less than seven weeks -- pushed fuel prices across the country to new historic highs. In Delhi, petrol hit an all-time high of Rs 96.93 a litre, while diesel is now priced at Rs 87.69 per litre. Fuel prices differ from State to State depending on the incidence of local taxes such as VAT and freight charges.
And because of this, petrol retails at over Rs 100 per litre mark in eight States and Union Territories -- Rajasthan, Madhya Pradesh, Maharashtra, Andhra Pradesh, Telangana, Karnataka, Jammu and Kashmir and Ladakh. While several districts of Karnataka already had petrol price over Rs 100, State capital Bengaluru reached the mark on Friday. Petrol in the city is now priced at Rs 100.17 per litre and diesel at Rs 92.97. Bengaluru is the third metro city to see Rs 100 per litre petrol price. Mumbai on May 29 became the first metro in the country where petrol was being sold at over Rs 100 a litre. Petrol now costs Rs 103.08 a litre in the city and diesel comes for Rs 95.14. The fuel touched that mark in Hyderabad earlier this week. While Leh already had Rs 100 per litre petrol, Srinagar joined the league on Friday. Petrol at Indian Oil Corp (IOC) pumps in the city costs Rs 99.99 a litre and that on HPCL outlets at Rs 100.04.
Rates vary by a few paise from company to company in a city. Sri Ganganagar district of Rajasthan near the India-Pakistan border was the first place in the country to see petrol hitting Rs 100 a litre mark in mid-February and last week it also earned the distinction of diesel crossing that psychological mark.
Petrol in the city is sold at Rs 108.07 a litre - the highest rate in the country, and diesel comes for Rs 100.82. Rahul Gandhi flays Modi-Government over rising fuel price: AMID rising fuel prices in the country, Congress leader Rahul Gandhi on Friday took a dig at Prime Minister Narendra Modi-led Central Government's 'Sabka Sath, Sabka Vikas' slogan stating that the condition of 'Vikas' is such that if there is no increase in fuel price for a single day that becomes a bigger news.
"Such is the condition of Modi Government's vikas (development) that if the price of petrol and diesel does not increase any day, then it becomes a bigger news!" said the Congress MP in a tweet. Prices of petrol and diesel in the national capital on Friday stood at Rs 96.93 per litre and Rs 87.69 per litre respectively. Petrol and diesel prices per litre in Bhopal stands at Rs 104.53 and 95.75 per litre respectively and in Mumbai Rs 102.82 and Rs 94.84 per litre respectively.
Speaking to ANI , a person in Mumbai said, "This has to be managed. Despite no increase in income since the beginning of the pandemic we have to shell out so much for fuel. Petrol is used everyday because we have to commute to office and other places, so we cannot cut on this expense, so we have to ultimately cut down other regular expenses. When petrol, diesel prices rise it gives rise to inflation. This has increased the burden on everybody's pocket. The prices of crude oil are very low at this time but due to the taxes levied by the Central and State Governments the prices of petrol and diesel have touched sky."
"A person whose monthly income is Rs 10,000-12,000 how will the person manage household expenditures and child's education when Rs 2,000-3,000 goes towards petrol? Education is already so expensive in our country. In this manner survival is very difficult," added a resident of Bhopal.