"The country is going to celebrate centenary year of Jhanda Satyagrah in the year 2023 and 75th anniversary of independence in 2022. Unknown freedom fighters are being identified to acknowledge their contribution in war of independence. It will be the responsibility of every citizen to ensure flag hoisting at every house during centenary year celebration of Jhanda Satyagrah," said Prahlad Singh Patel, Union Minister of State for Culture and Tourism (Independent Charge).
Union Minister Prahlad Singh Patel was addressing the Jhanda Diwas programme to commemorate the starting of Jhanda Satyagrah from Jabalpur at Town Hall premises, on Friday.
Union Minister, Prahlad Singh Patel inaugurated Jhanda March from Kamaniya Gate in presence of senior public representatives. The Jhanda March culminated with unfurling of national flag at the hands of Union Minister, Prahlad Patel at Town Hall premises. He honoured the freedom fighters and their representatives with shawl, shreephal and letter of appreciation.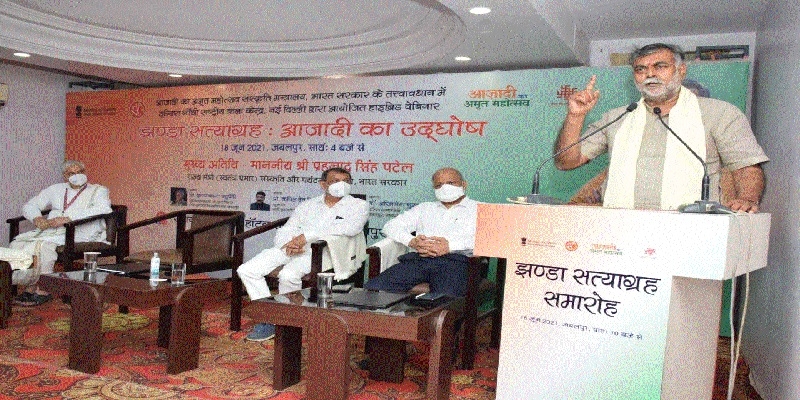 It may be noted that freedom fighters Premchand Jain, Parmanand Jain, Sunderlal, Sitaram Jadhav and others had unfurled the national flag to start Jhanda Satyagrah against British rulers for first time during the war of independence at Town Hall on March 18, 1923. Speaking on the occasion, Prahlad Singh Patel informed that several freedom fighters actively participated in Jhanda Satyagrah 98-years back and fought for independence against British rulers. Several freedom fighters are still unknown and efforts are being made to identify them for giving them due recognition and felicitation. On the occasion, MLA, Vinay Saxena said that Jabalpur has rich history of its role during war of independence. It is a matter of pride for the residents that historic event of Jhanda Satyagrah was started in Jabalpur and challenged the British rulers.
During the programme, the children who won top positions in virtual painting competitions on Jhanda Satyagrah include Rishita Mukherjee, Manya Sahu, Smruti Gupta and Nitya Sharma were honoured at the hands of guests.
On the occasion, Anchal Sonkar, Harendrajeet Singh Babboo, Sharad Jain, MLA, Sanjay Yadav, former Mayor, Dr. Swati Godbole, Indira Gandhi Arts Centre, Member, Alok Jain, Regional Director, Vijay Shankar Shukla and others were present.
'Commemorate such events to inspire young generation'
Union Minister of State Prahlad Singh Patel emphasised on commemorating historic events like Jhanda Satyagrah to inspire the new generations to respect their independence. He was addressing a webinar organised in third phase of Jhanda Diwas programme on the occasion of 98th anniversary of Jhanda Satyagrah at Hotel Satya Ashoka, on Friday. Earlier, Union Minister, Prahlad Singh Patel visited a painting exhibition organised by local artists. Noted subject experts, educationists and eminent persons shared their views on significance of Jhanda Satyagrah and shared valuable information pertaining to war of independence in Jabalpur. Professor Vijay Shankar (Kashi)