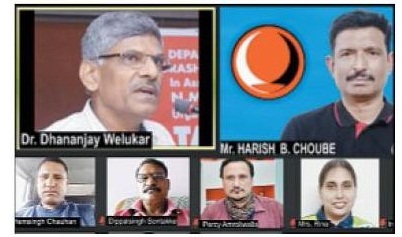 Sports Reporter :
PLAYING any sport assist in overall improvement of health but basketball is among those few sports that helps in gaining height, remarked Dr Dhananjay Welukar during a webinar on Tuesday. Welukar, Chairman, Technical Committee and Member of Maharashtra Basketball Association, was interacting with participants in the webinar series titled 'Karate and Sports seminar for Physical and Spiritual Development of the Students'. The sessions are being organised by Karate Budokan International (Vidarbha Region) and is hosted by Kyoshi Harish Choube (Black Belt 7th Dan) National Chief Instructor and Examiner Karate Budokan International. Dr Welukar listed many benefits a child a derive from playing basketball. "Basketball is a complete physical exercise.
It helps one builds up muscles and improves height. It increases one's accuracy and precision. The sport inculcates self discipline and teaches strategy. Being a team sport, it naturally instils a sense of team work, helps make new friends and it boosts one's confidence," said Dr Welukar. Speaking on fundamentals in shooting in basketball, Dr Welukar said, "To shoot accurately, square your shoulders to the basket and place your feet shoulder length apart. With your knees bent slightly and back leaning towards the basket, put the fingers of your shooting hand under the ball and tuck your elbows close to your body. Flick your wrist towards the hoop to release the shot. Your index finger should follow through facing the basket after releasing the ball." Dr Welukar informed about six types of shooting in basketball.
"A jump shot is most frequently used for a mid to long-range shots, including shooting beyond the arc. A hook shot is when the shot is made while your body is not directly facing the basket. A bank shot is when any shot is made where the ball hits the backboard before heading into the net. A free throw is a shot attempt given to a player that was fouled and it is taken on the free throw line. A lay-up is a shot made from short range by a player moving towards the basket. Slam dunk is usually the most spectacular shot and is one of the toughest feats in basketball," Welukar concluded. Renshi Karunkumar Tirpude proposed a vote of thanks.