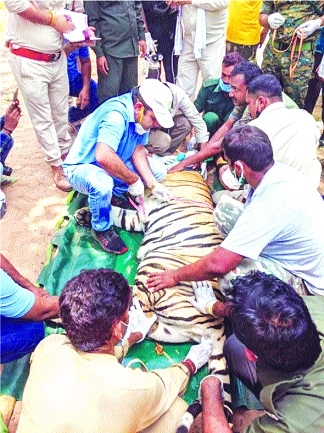 Tigress being tranqualised and radio collared at BTR.
Staff Reporter :
Bandhavgarh Tiger Reserve (BTR) shifted two female tigers to Satpura and Sanjay Tiger Reserve on Tuesday. Both tigresses were kept in Baheraha enclosure of Magadhi forest beat for a year. The tigresses were rescued from Byohari buffer area of Sanjay Tiger Reserve when they were around two years old. The reserve officials informed that both tigresses had killed a man in nearby village during year 2020 and then they were rescued by Bandhavgarh team. They were kept in Barhera enclosure for one year for re-wilding them.
The reserve management has decided to release them into wild after finding their medical fitness. BTR officials said both feline were kept in separate enclosure where they were served with live cheetal. Gradually both tigresses got skilled in killing cheetal. Recently expert team studies the behaviour of tigresses and recommended to release them into wild. Both tigresses are three year and three months old. Last week on May 27, a four years old young male tiger was translocated to Mukundpur Zoo from Bandhavgarh after expert committee recommended tokeep the cat in enclosure.